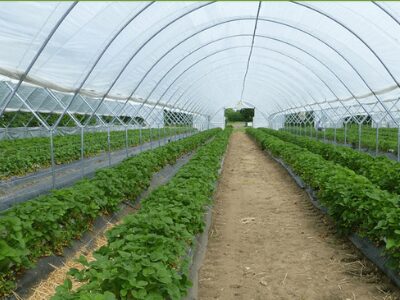 How to Start Commercial Poly House Farming in India: It is needless to say that farmers in the Indian subcontinent are facing several challenges. We are seeing a number of suicides of farmers across the country which is heartening. Some of the main reasons for such a problem in India are small landholding along with poor yields. This also comes with the use of traditional cultivation methods with Monsoon cultivation. In a case where there is no rainfall during Monsoon, there is no other option for the Indian Farmers. Hence farmers have to adopt new methods, methods that will change their misery. One such is Poly House Farming Technology in India.
Time and time the government and KVKs are explaining the Advantages of Polyhouse Farming. By adopting this Poly House in India, farmers will never face a problem that was haunting them for decades. There is less requirement of irrigation, can control temperature, etc. While you can cultivate a single crop throughout the year which is certainly advantageous. Yes, the Cost of Poly House Farming is high, but they will recover the investment pretty much soon. In spite of the Poly House Farming Costs, farmers are enjoying huge profits. Since it has got such a wide range of profits, one has to Start Poly House Farming.
Steps to Start Commercial Poly House Farming in India:
Polyhouse Farming costs around 1000 rupees per meter. This cost will vary according to various factors. Hence you have to make sure you have enough money with you.
The Government of India is offering a number of Subsidies for Polyhouse Farming in India. Try to avail such Polyhouse Farming Subsidies under various schemes.
There are a number of companies offering Polyhouse building materials. Ensure that the service you purchase is of good quality.
You will require Polythene Sheet, Iron Rods. If you want you can also Irrigation pipes, Ventilation fans, etc. You can buy them online too, like in Indiamart, Amazon, etc.
In case you want to add technology, it will cost you some extra money.
Once you all the materials, you can hire people to construct the Polyhouse.
But you must select the Site before that. This site should have certain requirements for Poly House Farming. You can check this to see the requirements for starting PolyHouse agriculture in India.
Soon after that, you have to select a crop according to your choice and start cultivation practices.
These are some of the steps you need to take to build the Indian Poly House Farm. We hope you will find this information on Commercial Poly House Farming Tips to Start helpful. We're going to come up with the PolyHouse Farming Price first. Therefore, check the link below.
What is the Total Cost of Commercial Poly House Farming in India