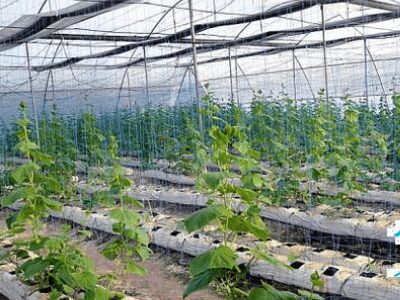 Commercial Polyhouse Farming Training Programs: The situation of farmers in India is in the worst phase. We read every day one or other farmer's suicide. This is because of the problems in Agriculture in India. Hence the government and the farmers are trying for different things. To solve the problem of farmers, here comes the Poly House Farming in India. If you want to Start Polyhouse Farming, then you can check various information on our website. We have provided information on How to Start Commercial Poly House Farm in India. You can check that or you can check the Polyhouse Farming Costs in India. Here in this article, we are going to tell you about the Training Programs for Commercial Polyhouse Farming in India.
List of Commercial Polyhouse Farming Training Programs in India:
It is not that easy to directly Start the Farming in Polyhouse. You need to know many aspects of this farming. Only then you can start and cultivate crops in Poly House. It includes What Type of Crops to Cultivate in Polyhouse, What are the Management Practices for Polyhouse and many others. You can know all this information only with the help of Training Programs on Poly House Farming.
There are a few Training centers in every state of the country. Hence you can join in any of those centers for Polyhouse Training. They will charge a few thousand for this training as a fee. They will train you regarding different aspects of Polyhouse Farming for about a few days. You can learn many things here such as what are the different irrigation practices in Polyhouse Farming etc. Check the below Polyhouse Training Centers in India.
AIOFS or All India Organic Farmers Society is providing Training sessions on Poly House Farming. Apart from that, they are also providing Training on Greenhouse Farming in India.
KVK or Krishi Vigyan Kendra will also conduct training sessions. Krishi Vigyan Kendra has a number of branches in each and every state. Once in a while, they conduct the training program. To know the date of training sessions, you have to either log into the KVK Official Website or to go directly KVK center in your vicinity.
Apart from these, there are a number of other institutes that will train you in Commercial Poly House Cultivation. You can check with the other Poly House Farmers and with the KVK for further more information. They will provide you all the details regarding the Polyhouse Farming Courses. Furthermore, check the below link to know more about Poly House Cultivation.
List of Loans and Subsidies in Commercial Poly House Farming in India