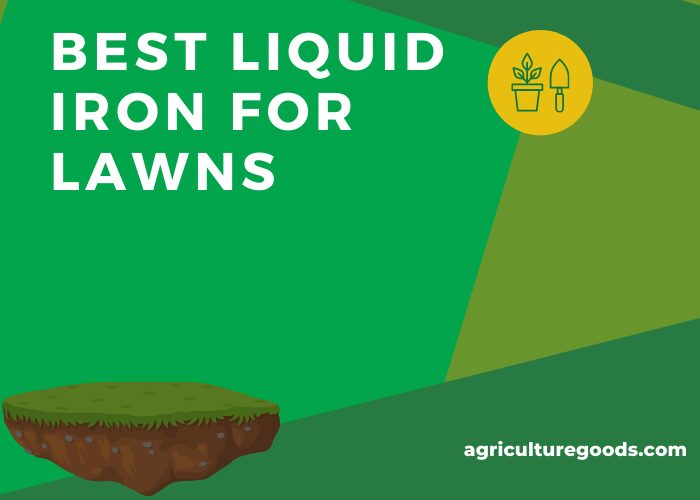 Here is a review of the best liquid iron for the lawn to help you find an iron supplement that will protect your lawn from chlorosis and discoloration.
Iron fertilizer is an essential nutrient for lawns or plants because iron is involved in the chlorophyll synthesis that imparts green color and healthy growth to the plants. However, turf that lacks iron can be affected by iron chlorosis.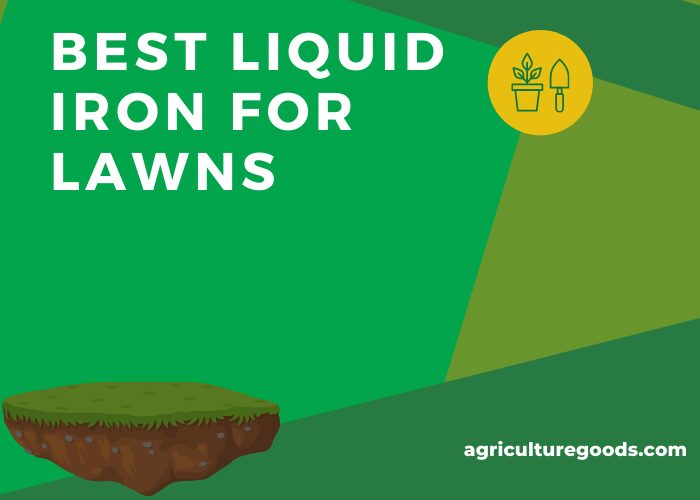 In this condition, the grass turns yellow and brown. As a result, the vibrant look of the grass becomes dull and rough.
To maintain the lawn's greenish and fresh look, different brands offer liquid iron fertilizers. These supplements fulfill the iron deficiency and make your lawn luscious and verdant.
Here is a review about the best liquid iron fertilizer to satisfy the iron need and help your lawn grow healthily and naturally.
Liquid Iron For Lawns Top Picks
1. LawnStar Chelated Liquid Iron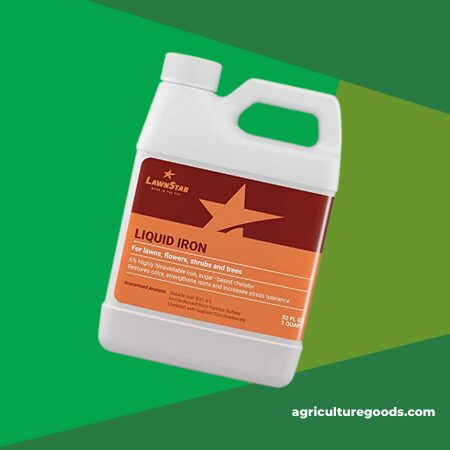 LawnStar liquid iron works best on lawns, flowers, trees, and vegetables. It is one of the best-chelated liquid iron available in the market that restores the color of the lawn and protects it from the effects of harsh weather. This iron supplement helps the grass to regain its green color and preserve the root damage. It contains 6 percent of high-quality nutrients that are responsible for the nourishment of green grass.
It is absorbed in the roots of the plants and promotes healthier and stronger turf. It keeps your lawn protected from the effects of nature and improves the turf's ability to tolerate the stress of environmental conditions. Lawn Star liquid iron keeps the nitrogen level, chlorophyll production, and metabolism of the green plants stable so you can get a vibrant-looking turf.
This iron supplement is free from EDTA so that you can use it safely. Still, you should take care while using this supplement on your lawn. However, I found it simple to use with some essential considerations. First, you might get stains while using the LawnStar iron supplement, so before using this product, make sure you wear safety gloves and clothes. Second, it is essential to check the pH level of your soil. If the pH level is not stable, stabilize it first, then use the product.
Mix a ratio of LawnStar CLI iron supplement 1.5 – 3oz depending upon the length of your lawn with a significant amount of water, and then spray it on your lean, trees, and shrubs. Do not water for a few hours after you have spread this mixture. Let the mixture absorb in the roots to get a vibrant-looking lawn. The mixing ratio for different sq feet is mentioned on the packaging.
Pros
6% bio-nutrients
Enhances the look of a lawn
Free from EDTA
Cons
Not suitable for alkaline soil
The LawnStar is a Chelated liquid iron supplement that makes the deficient soil healthy with sodium glucoheptonate. It has all the essential nutrients that a ground requires for healthy grass and plant growth. In addition, it promotes root development and provides stability and firmness. If you want a quick result, you should consider buying the LawnStar iron supplements because it gives you the desired result in four days.
2. Bonide 037321002994 299 Liquid Iron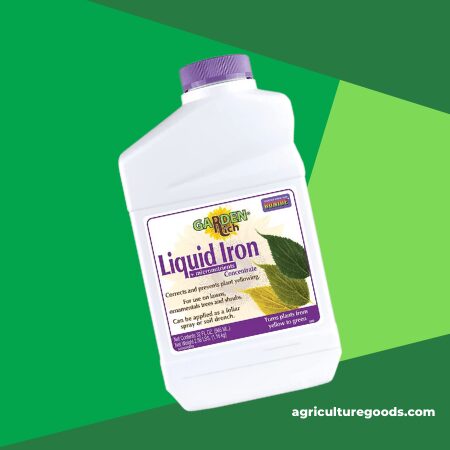 Iron deficiency in the grass can turn your lawn yellow because the crucial nutrients and chlorophyll do not completely absorb the roots. Due to this, you see a rough and yellow patchy lawn. In the top names, Bonide is one of the best plant care manufacturers famous for its organic and trusted products since 1926. Bonide liquid iron provides your grass with iron and essential bio-nutrients that are important in chlorophyll production. It protects your lawn grass from turning yellow and protects the turf from external stress.
It can be used on herbs, shrubs, long trees, vegetative plants, and grass. You can use it along with other herbicides, pesticides, and high phosphate fertilizers. It is safe to use and does not harm people and pets. The formula of Bonide liquid iron contains harmless minerals that do not affect the surrounding. However, it is not intended to be used indoors. Moreover, Bonide liquid iron absorbs in the deficient soil and gives it a vibrant look.
I found quick results of Bonide liquid iron. It is made with organic ingredients that quickly work on the health of your lawn which is why within 72 hours, you will feel the change in your yellow lawn. Bonide liquid iron not only protects your lawn from nature's harness it also keeps your flowering and vegetative plants protected from chlorosis throughout the season.
The usage of liquid iron is easy, and all the instructions are available on the package. You can use it both ways, like foliar spray or as a soil drench. Both the methods are effective and will give you similar results. Before applying this iron supplement, make sure the pH level of your soil is balanced. The balanced pH will help absorb the nutrients from Bonide liquid iron quickly and give you noticeable results in 24 hours.
Pros
Made with organic nutrients
Safe to use
Quick results
Cons
May cause allergic reaction
Bonide liquid iron gives you the best results in a less amount of time. It protects your plants and lawn from turning yellow as it contains iron with micronutrients that boost root development and helps in chlorophyll production. Chlorophyll is responsible for providing green color to your grass. It also helps to nourish the soil so you can get green grass on your lawn.
3. Southern Ag 01952 Chelated Liquid Iron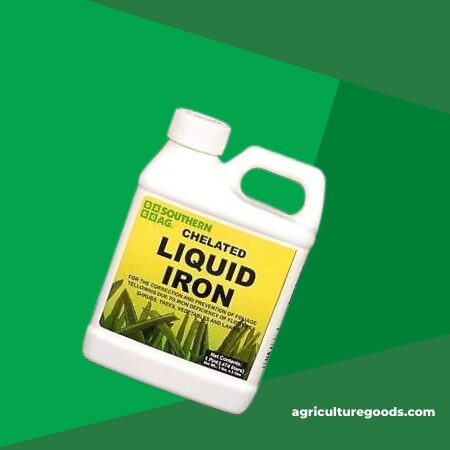 If your lawn shows lackluster symptoms, you must consider buying this liquid iron to protect your turf from getting dull and rough. In addition, Southern Chelated Liquid iron keeps your plants protected from chlorosis and gives life to the deficient soil. It also increases iron in the roots and gives your turf a fabulous green look.
A multi-purpose iron supplement comes with 5 percent iron that absorbs within roots and gives dull-looking grass a more vibrant and glossy look. Moreover, it can be used anywhere like roots, flowers, plants, herbs, and shrubs without any adverse effects. Southern Chelated liquid iron contains all the essential nutrients with iron that protect your lawn from turning yellow.
If you notice a brownish look in the grass, it means it lacks iron or nitrogen. This iron supplement comes in a gallon that can treat an area up to 8000 sq ft. You can use it according to the size of your lawn. I found it very simple to use. You just have to mix one tablespoon with an excessive amount of water. Moreover, for covering a 1000 sq ft lawn, you need 16oz of Southern CLI liquid iron.
For more quick and effective results, spray this liquid iron in the morning because the cooling effect will absorb the essential nutrients in the roots. In contrast, the high intensity of heat can evaporate the spray in the daytime. Use a drenching spray for proper application. It is safe to use for pets and people in the surrounding area. It gives your turf health. You will notice a quick change in color after the application of one or two days.
Pros
5 % Iron
Affordable
Safe to use
Southern Chelated liquid iron gives your lawn a new life by nourishing its roots. With its quick results and affordable price, you can use it on your flowering, vegetative plants, and shrubs. Safety is the priority of this product. The application method is displayed on the package to help you find a perfect combination of water and the iron supplement according to the lawn's area.
4. Chelated Liquid Iron +Plus Concentrate Blend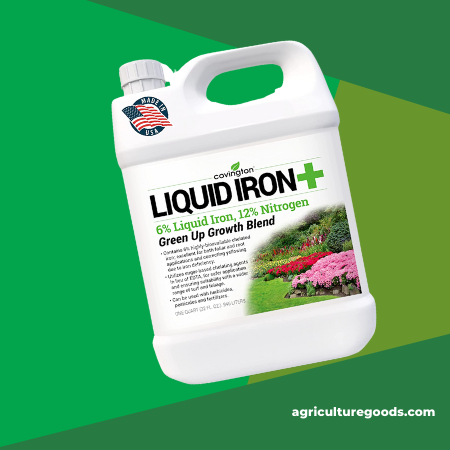 Chelated liquid iron by Covington is made of 100 percent organic iron and other essential nutrients that cure the illness of plants and enhance the overall health of your lawn. Due to lack of iron, the plants or turf turns its color from green to yellow. Therefore, many experts recommend Covington Chelated Liquid iron.
It has 6 percent iron and other bio-nutrients that include nitrogen, sulfur, and manganese that help treat iron deficiency and other illnesses caused by the stress of the environment. I found it safe to use with no EDTA. Moreover, it is approved by OMRI, which means it contains organic nutrients that are helpful in the development of roots and suitable for foliage and turf.
It can be used outside the growth line of trees, herbs, shrubs, and grass. The Covington liquid iron is best suited for shunted trees, and it solves the discoloration issue of trees and grass. In addition, it gives your lawn a vibrant greenish look by fulfilling the iron deficiency. This sugar-based liquid iron can be used by the spraying method. All the instructions are mentioned on the package.
It is essential to follow instructions for specific use. For example, if you are using this liquid iron on turf or lawn, then for a 1000 sq ft area, mix 8 to 16 oz of liquid iron with a good amount of water. Then, evenly distribute the mixture to the desired area for better results. Covington gives the best customer care service with 100 percent original products. It also gives you a money-back guarantee so you can use this product without any hassle.
Pros
6 % iron plus bio-nutrients
OMRI certified
No EDTA
Cons
Can stain your clothes and area
The USA-made Chelated liquid iron gives your grass green color by enhancing chlorophyll absorption. It also helps in root development so you can get healthy trees and plants. It comes with a blend of iron and other nutrients that fight the illness caused by iron deficiency. It is simple to apply and ensures 100 percent safety protection.
5. Opulent blends Almighty Iron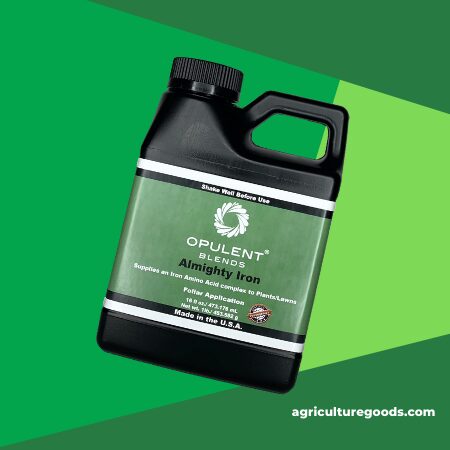 The opulent blend is a well-known manufacturer that provides high-quality products for the growth and health of plants. The almighty iron supplement decreases the risk of iron deficiency with its 12 percent iron in it. It is made with a ferrous amino acid complex that gives you instant results after application. You will notice a visible change in the turf within one day.
It promotes grass health and turns the yellow-brownish patches of the grass into green color. The almighty iron increases the iron rate in plants or grass by 322 percent. It is safe to use. It helps the plants and lawn to naturally regain their green color. Unlike other products, almighty iron does not contain any toxic substances that adversely affect your plants. It can be used on plants, grass, trees, and shrubs.
You will have to spray this mist once or twice a week, depending on the condition of your lawn. Its application is effortless and quick. Use this product with proper care. Wear old clothes while spraying this dilute mixture because it can stain your clothes and surrounding area.
It is available in gallons, and for a 1000sq ft area of the lawn, you need 4 oz of Opulent almighty iron mixed with excessive amounts of water. Instructions are written on the package that gives you an easy way to integrate the proper amount of iron according to the surface area of the lawn. Spray the fine mist evenly on the ground. The amino acid in the Opulent Blends Almighty Iron contains a Fe ion absorbed in the ground and nourishes the roots for healthy growth.
Pros
Ferrous amino acid complex
12% iron
Instant results
If you want instant results, then Opulent Blends Almighty Iron is just made for your requirement. It gives your lawn a vibrant green color that was changed due to a lack of iron. It has a high rate of iron absorbed in the ground and promotes root development for better growth. It can be used with other products like pesticides and herbicides. It is made with non-toxic substances that fulfill the iron need naturally.
6. Simple Lawn Solutions – Liquid Iron Darker Green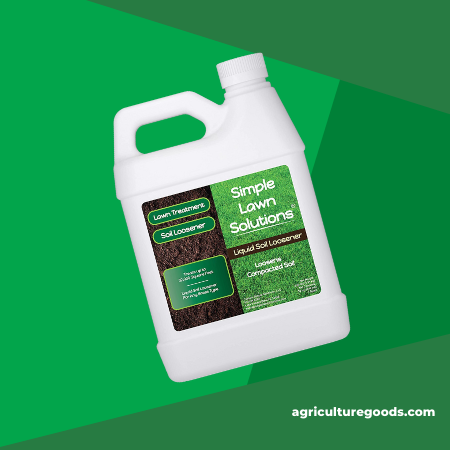 Simple lawn liquid iron is ideal for a lawn that has turned yellow due to a lack of iron. It provides the grass with iron that promotes the green color. Your garden will look green and shiny because this liquid iron is made of natural ingredients. It does not contain any toxic chemicals that can worsen the grass condition.
It is made with nitrogen, zinc, manganese, and iron. These essential nutrients absorb into the soil and promote the healthy development of soil. As a result, you will get darker green, healthy grass in your garden. It also naturally treats essential mineral deficiencies. It is suitable for all types of grass-like, Bermuda, st. Augustine, buffalo, Florida, centipede, and others.
This product is used for commercial purposes like high lands, gulf, parks, and turfgrass. It encourages growth and gives your garden a vigorous look. Farmers and professionals widely use this liquid iron for the healthy development of plants. I found it effective while using it on large trees, flowering plants, potting soil, young plants, lawns, herbs, and shrubs. It contains organic ingredients that do not affect the fruit or flower of the plant.
With its simple application, it is widely used with 100 percent best results. It takes less time and energy to apply it all over your garden. Read the instructions carefully on the bottle for making the mixture. It is safe for pets, kids, and other surrounding people. It does not cause any irritation or agitation due to its organic composition. Simple lawn solution encourages green color for a vigorous looking garden without burning the grass.
Pros
Organic components
For all types of grass
Non-toxic
Cons
Not suited for the spray bottle
The simple lawn solution liquid iron is ideal if you are worried about the chemical components that can burn your garden. It is safe to use if you have pets and kids in your home. It is made with organic ingredients that keep the garden safe from discoloration and has long-lasting effects. You will never regret buying this product for your iron-deficient lawn.
7. Fertilome Chelated Liquid Iron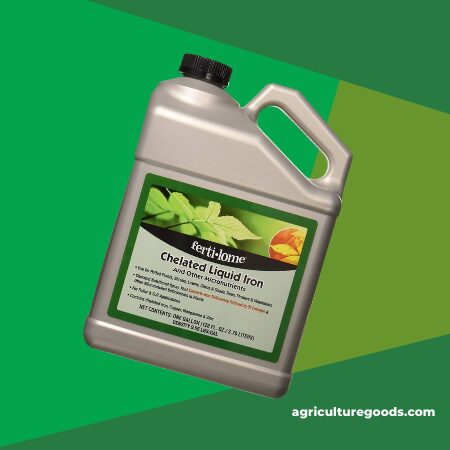 Fertilome chelated iron is the best solution for plants and lawns that lack iron. It is made with copper, iron, zinc, and manganese. It contains about 3 percent iron that combats the iron deficiency and promotes green color foliage. It is compatible with other fertilizers and pesticides. It protects your lawn from turning yellow and rough. The iron component with other essential nutrients in the Fertilome chelated liquid iron promotes chlorophyll absorption and root development in the grass.
I found this liquid iron effective for lawns, potted plants, citrus fruit plants like mangoes and avocados, flowering plants, and shrubs. It provides a green look to your garden if you use this liquid iron in accurate proportion. The instruction of application comes with the package, which gives you an easy-to-follow guide.
You need to apply it evenly on the ground with foliar spray. For one tbsp, you need a gallon of water. Furthermore, for a lawn of 500 sq ft, you need 16 oz of Fertilome liquid iron with an excessive amount of water. You can also increase the ratio according to the area of your garden. It is safe to use and does not affect the surrounding area, which gives you quick results. You will notice the difference in your lawn after the first application. It is better to use it twice a month, depending upon the lawn's condition.
Pros
3 % iron composition
Promote green color
Safe to use
Fertilome chelated liquid iron is easy to apply and safe to use. This product covers all the essential ingredients needed for the healthy growth of plants and grass. You can get an ideal product for your lawn at an affordable price that protects your lawn from iron deficiency.
Buying Guide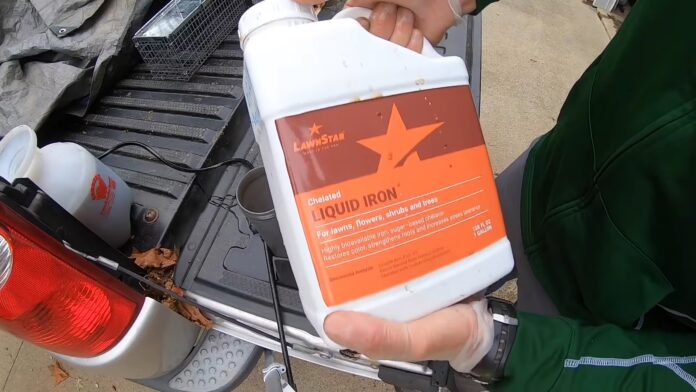 When you notice discoloration of your lawn, it means your turf is iron deficient, and this is the right time to feed your lawn with essential nutrients. However, selecting appropriate liquid iron for the lawn is not an easy task. It takes time and energy to find a perfect iron supplement that improves your lawn health and gives it a vibrant look. Here is a guide that will help you find a liquid iron supplement for regaining the natural look of your lawn.
Testing The Soil
The condition of your lawn will tell you about the deficiency of the nutrient. The most common problem one can notice is the decoloration of grass. When the grass turns yellowish or brownish, it gives you an indication that your soil is iron deficient. Depending on the low nutrient, you will decide which supplement to choose. It will also tell you in what amount you need the liquid iron to fulfill its deficiency. It is essential because if you spray too much liquid iron, it may damage your soil, whereas too little iron will not work efficiently.
First of all, you need to test the soil. This step is crucial because it will let you know about the pH level of the soil. For example, liquid iron does not work correctly if the soil is alkaline and has a high pH level. With the soil test, you will be able to know which nutrient is deficient. For soil tests, you will need a testing kit. Take a small amount of soil and check with the equipment.
Once you are done with this test, you can better decide which supplement you need to purchase according to your soil needs. If you do not have a testing kit, you can also visit the testing laboratory. They will analyze the condition of the soil and will tell you the results. They will also give you recommendations regarding purchasing a liquid supplement.
Area of the lawn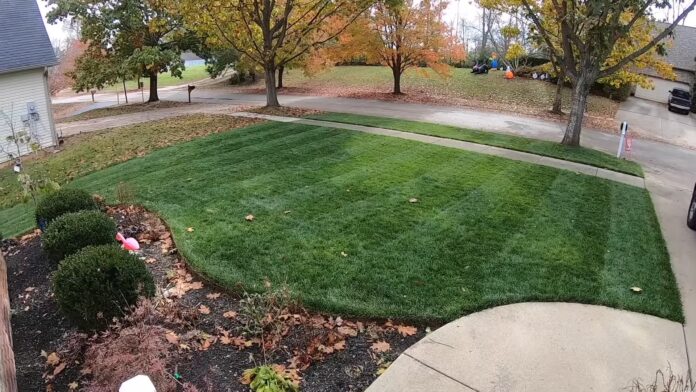 Depending upon the size of the lawn, you can buy liquid iron. If the lawn's area is small, you can have a small size liquid iron. However, if the surface area of the grounds is large, try getting a large gallon of the liquid iron. It will spread in the lawn evenly and will give you effective results after application.
Granular Vs. Liquid Iron
It is better to purchase liquid iron than granular iron because liquid iron absorbs in the ground quickly and reaches the roots for better root development. It also gives you faster results, and you will notice the rapid greening and better health of the grass within 24 hours. Furthermore, it distributes in the soil evenly and has a versatile application. It is a bit expensive as compared to granular iron but has universal applications.
It is compatible with other pesticides and herbicides and is safe to use for pets and the surrounding area. It causes very minimal irritation depending on person to person. You have to apply several times for the best results. The liquid iron results are for a shorter period than granular iron. However, the liquid iron absorbs instantly in the ground but does not have long-lasting effects on the lawn.
Spraying Method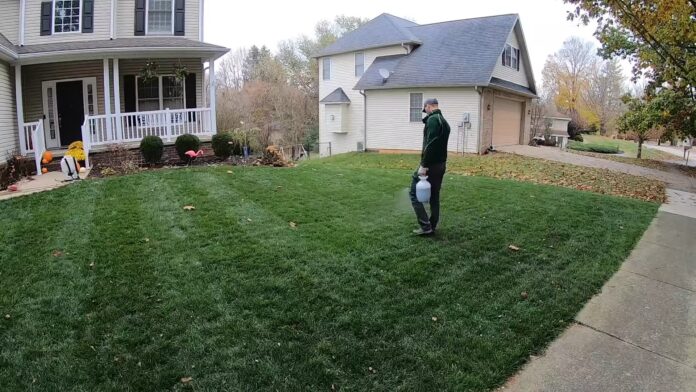 You can use two methods that can give you better results. Many brands offer liquid fertilizers with a spray bottle that makes it easy for you to sprinkle the liquid iron all over your lawn. It will help you to distribute the liquid iron evenly. The liquid iron will saturate in the ground, and it will help to promote root development. You can also use the irrigation method by mixing the liquid iron with excessive water in the tank and then spraying it evenly on the ground. This irrigation method is easy and time-saving.
Conclusion
Liquid iron protects your lawn from discoloration, chlorosis, and lackluster. This condition of your lawn depends upon the soil's pH level, higher amount of zinc, or deficiency of iron. For combating iron deficiency, I have reviewed some best products that will help you find a perfect iron supplement depending upon the garden's need. The top three recommendations are:
LawnStar Chelated Liquid IronLawnStar Chelated Liquid IronLawnStar Chelated Liquid IronLawnStar Chelated Liquid Iron for its 6% bio-nutrients, organic ingredients, and free from EDTA formula. Bonide Liquid IronBonide Liquid IronBonide Liquid IronBonide Liquid Iron for its organic nutrients, Safe to use, and quick results. Southern Ag 01952 Chelated Liquid IronSouthern Ag 01952 Chelated Liquid IronSouthern Ag 01952 Chelated Liquid IronSouthern Ag 01952 Chelated Liquid Iron for its 5 % Iron composition, affordable price, and safe to use nature.
This was a detailed review about the best liquid iron fertilizer with its features and buying guide. This review will help you find the liquid iron supplement to give you quick and natural results. The liquid iron is safe to use and more effective than granular iron.
Check out some other picks from Amazon also: