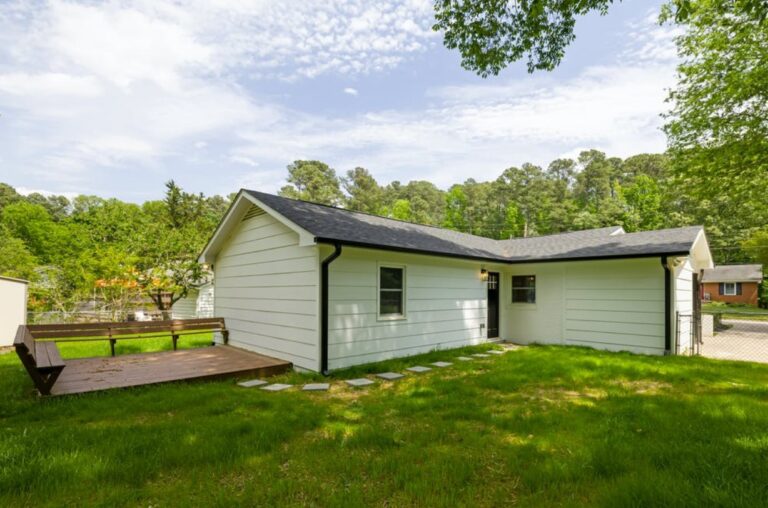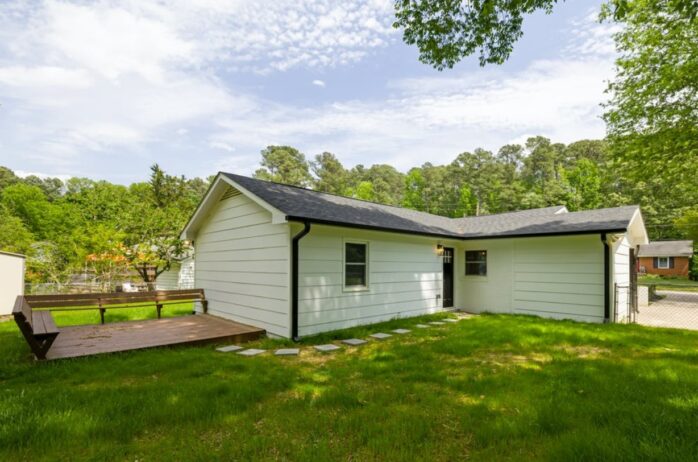 Firstly, congratulations on building your backyard shed successfully. You should give yourself a pat on your back, especially if this was a DIY project—what a major accomplishment. However, if you've got curious neighbors gawking at your backyard, especially the yellowish wooden box stealing the show (sarcastically), you might want to consider doing something about it.
The good news is that there are plenty of options to improve the look of your backyard shed. Now, these options aren't only for visual appeal; they come with various benefits too.
In this article, we'll discuss some popular wood siding techniques for your backyard shed.
How to Find The Right Shed To Suit Your Needs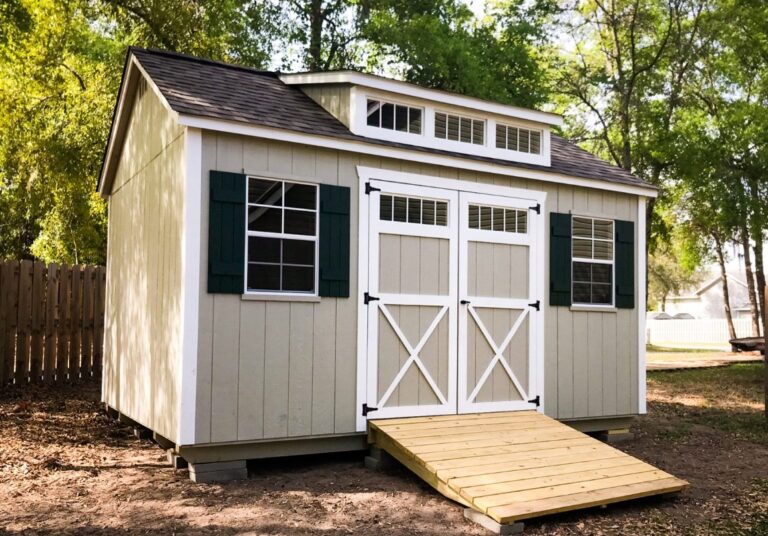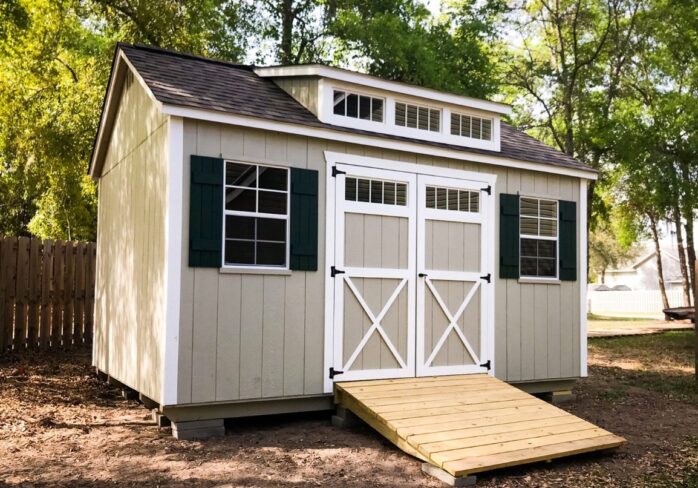 Ask yourself, what is the purpose of this shed siding? This is an important question, as the answer will help you determine which siding technique or material will be best suited to your needs. There are certain factors that you must take into account before you make any purchases.
For instance, the weather conditions of where you live, durability, cost, and installation are all equally vital to consider when choosing the perfect shed siding. But there's more. For a deeper understanding of what you need to look for before choosing your design, check the following list of questions:
1. What Can You Afford?
Budget is a huge factor. The siding material you opt for will have to be something that you can afford. You can simply shortlist shed siding options based on how much you are willing to spend.
2. How Long Will It Last You?
Your investment needs to make sense in terms of durability. You don't want to spend your money on siding materials without confirming that they will last. You should also think about maintenance requirements in order to extend the lifespan of the building.
3. Is It Water-Resistant?
This is particularly essential for areas that experience a rainy season. Water damage can be costly, so it's imperative to choose shed siding that is water-resistant and protects the joints and seams despite the weather condition.
4. Does it Complement Your Backyard Aesthetically?
The appeal factor, or how it appears is also an important factor. Remember how you were bothered by the yellow box? So keeping this in mind, you should pick something that complements the house and accentuates your backyard. If your home already has wood siding with vinyl, then choosing vinyl for your backyard shed will perfectly match the exterior of your home.
5. Will Installation Add More To The Cost?
This should also be a concern for people who are interested in doing it by themselves. Find out what tools you need to do it properly, and also consider if it would be cheaper to just get professional wood siding contractors like Clad Siding to do it for you. How easy is it for you to install? Do you need special tools? Does it actually require a pro to do right?
Why Is Siding Your Shed Important?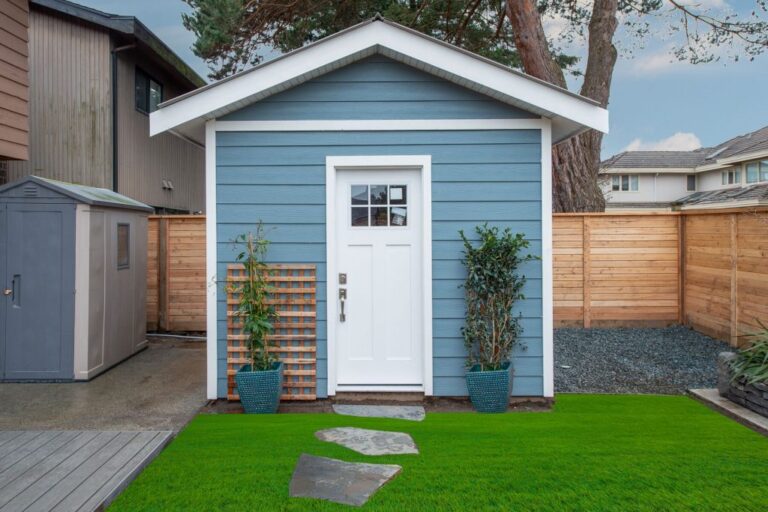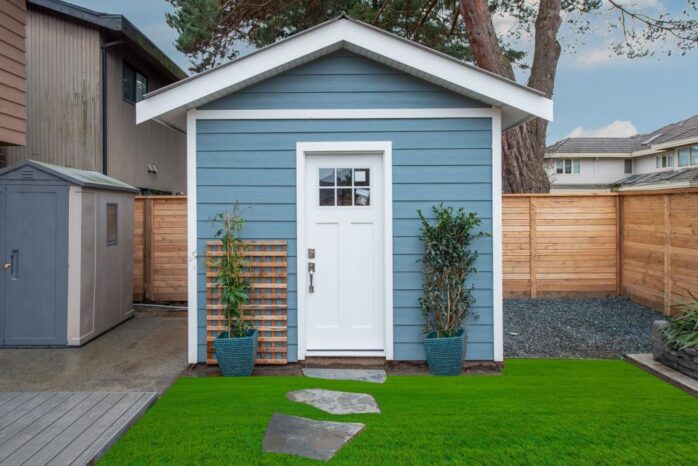 The siding is the exterior layer of the shed. This means that this part will be exposed to all weather conditions, as well as any external damages such as branches falling on it. You need to opt for a material that has a balance between affordability and durability. Spending money on materials that might not last or that demand high maintenance will not let you enjoy your backyard in peace.
It's true that some siding materials are superior to others, but that does not necessarily mean that they're the right choice. It has to match your requirements too. Make a practical choice by prioritizing your style, affordability, and durability.
Let's now look at some of the most popular siding materials.
Available Options For Siding Materials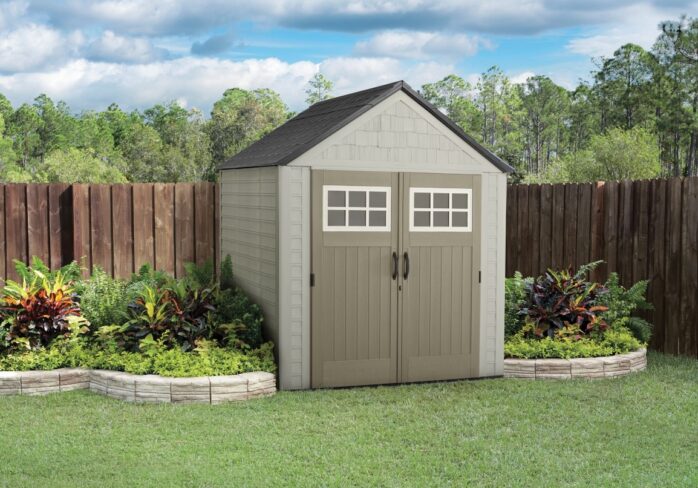 There are a variety of popular materials to choose from. Here is the list of the most commonly used.
1. Wood
There are two types of wood siding options, the most common one is natural wood, and the other is engineered wood siding.
Natural Wood
These are basically milled planks used for different profiles, either vertically or horizontally. Natural wood siding can also be used for shingles or cedar shakes, although they usually need to be stained or painted.
To get the natural color of wood, you may have to choose natural resistant timber, for example, oak, cedar, larch, or pressure-heated pine board. These are all great options; however, you should know that the color does wear off over time.
Wood shingle siding is a fantastic choice too, as it elevates the appeal of your space by adding character to your shed.
You can also opt for painted wood. Please note that painted wood does require additional maintenance that includes re-treating and painting to protect it from rot.
Exterior wood stain is a better choice than painted wood, as it allows the wood grain to be seen underneath. An average quality stain will need to be re-applied every three to four years.
Then there's colored timber siding too. This is a durable choice with minimal maintenance requirements.
Engineered Wood
Similar to vinyl, engineered wood siding is manufactured in 4" by 8" sheets for outdoor use, meaning that it is ideal for backyard sheds. It can be painted or stained, too. It is known to be moisture-resistant, and since it is made with real wood strands or fibers, it has a natural look. It is also helpful in preventing fungal decay and termite damage.
If you compare it to some of the other siding options, you'll notice that it is much more durable and affordable. The best thing about engineered wood siding is that it lasts for decades.
2. Vinyl
Vinyl is a shed side material that looks like molded colored plastic. It is available in sheets and planks and is applied either vertically or horizontally. Vinyl does not require painting after installation.
It is a great option as maintenance is super low, making it easy for people who are not willing to spend time or money on maintenance every few years. As mentioned earlier, for clad siding homes with vinyl, it only makes sense to go for similar material for backyard shed siding too. Plus, it's affordable.
However, you must also know that vinyl cannot be repainted. If it is damaged, it will have to be replaced, which can be quite expensive.
3. Fiber-cement Siding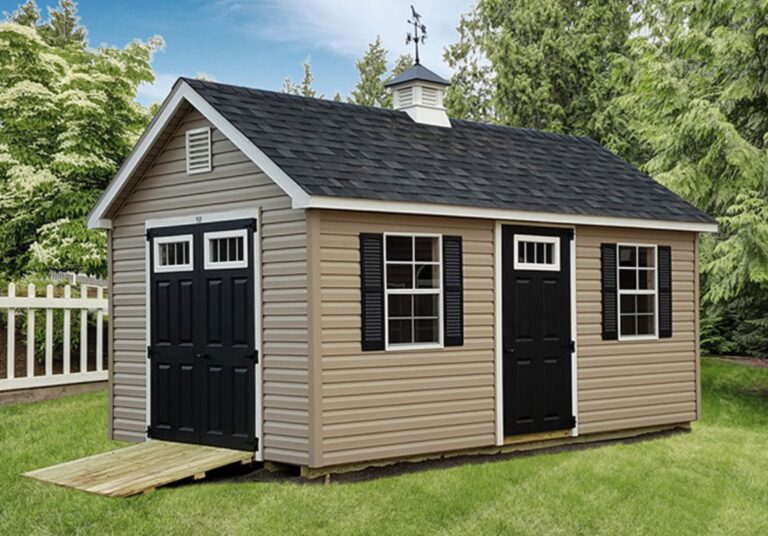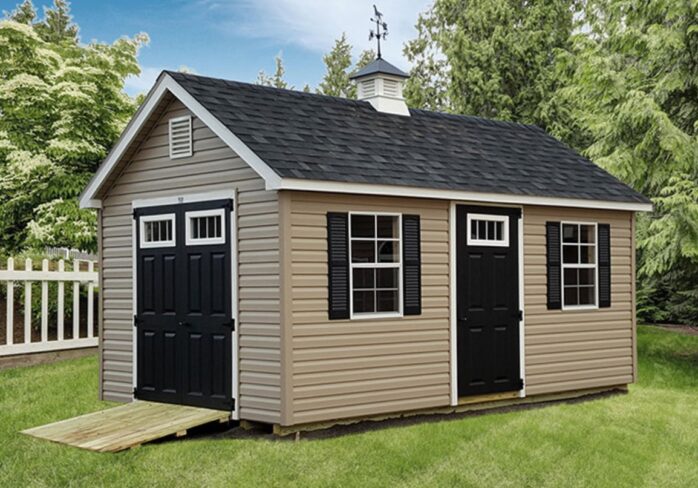 This is a relatively new option and becoming quite popular. Fiber-cement siding is made using cement, sand, and cellulose fiber and is available in sheets. Fiber-cement is quite rigid but will not prevent damage from hail or other accidents.
However, there are advantages to choosing fiber cement. It doesn't rust, and it can be painted in any color you like. Please keep in mind that we highly recommend getting professionals to help you install fiber-cement sliding. You don't want to damage it and have to start over. It takes a professional to do this job, trusts us.
4. Metal
Metal siding is made from aluminum or steel sheets that are similar to shingles and planks. The color is permanent, so it does not need to be painted or stained. For people who want a more affordable option for siding materials, metal is a great choice.
Metal is a super strong material; however, it can be very noisy. Aluminum is more resistant to corrosion, but it can be easily dented by hail. Steel is stronger, but it can also be damaged.
5. Bevel Siding
Bevel siding is a softwood plank that looks like a wedge. It is also commonly known as clapboard, weatherboard siding, or lap. It is milled using spruce or pine. However, it can also be made from cypress and cedar, which are commonly available in stores too. It is designed in a manner so that the layers overlap each other to create a protective barrier, making it sturdier and more resistant to insects.
Bevel siding is not expensive, and you can easily install it yourself. It is durable and made from natural sources. If you are an environmentally conscious person, bevel siding would be ideal for you as it is 100 percent environmentally friendly and sustainable. Another benefit of purchasing bevel siding for your backyard shed is that you can use any finishing color of your choice.
One drawback is that maintenance is not as easy as some of the other options and you will need to check for moisture damage regularly. Consider waterproofing it from both sides in order to stop crackling or warping, etc. On another note, you should also consider contacting a pest control company to check for pests before you start installing siding.
Lastly, you should know that bevel siding needs to be repainted frequently.
Conclusion
Remember, the main function of using siding for your backyard shed is to protect it from snow, ice, rain, and other environmental hazards.
Now that you have read this article about popular backyard shed wood siding techniques, it's time to decide which one is perfect for you. Keep in mind, whichever one you opt for, you're going to thank us for the information you read today! Now, good luck!