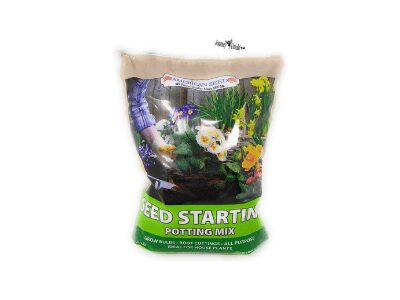 Plants thrive when the conditions are favorable, as most people are aware. You might have weeds growing everywhere. When it comes to sowing seedssowing seedssowing seedssowing seeds, however, you'll need the right equipment.
To germinate and develop, your seeds need the best-growing mediums. This is where finding the right seed starting combination comes in handy. We take a look at some of the best items on the market and help you choose the best one for your needs.
What Is Seed Starting Mix?
Crop-starting soil is another name for the seed-starting mix. Both words are interchangeable and have the same meaning. However, the term "soil" is deceptive since it does not refer to potting soil.
There aren't many nutrients in the seed starting mix. It is, in truth, as low as it can get. In general, it is formulated for a particular type of plant and contains nutrients that are specific to that plant.
It normally contains no soil and is only there to aid seed germination. It's normally lighter and finer than dirt, making it easier for tiny seeds to germinate and develop into seedlings.
Although seeds do need a lot of water, if they are left wet for too long, they will rot. As a result, the seed starting mix retains water but does not become soggy. Your seeds will flourish in this climate.
For the first few weeks, seedlings do not need soil because they obtain their nutrients from the seed itself. Compost is commonly used in seed starting mixes to provide nutrients to the seeds as they grow.
Soil can also contain fungi and mold, which your seed does not require. You reduce the chance of rot and bacterial infections by selecting a mix without soil.
Also, See What's the Difference Between Topsoil and Potting Soil?
Seed Starting Mix vs. Potting Soil
The distinctions between potting soil, garden soil, and seed starting mixes are often lost on new gardeners. There are, however, differences between them.
This has the ability to destroy or revive your plants, so be mindful of all three choices and how to use them correctly.
Gardening Soil
Topsoil is normally combined with fertilizer, compost, and other ingredients in gardening soil. It's only meant to be used in garden beds. Microbes are used in certain blends, which will help your plants grow faster.
It is, in general, the garden's foundation material. Each area has a unique base soil with different minerals, clay, sand, and silt.
You should not start your seeds in gardening soil. They need a special mix that will provide them with the necessary nutrients while not killing them. Garden soil is often thick and compacted, making it impossible for seeds to germinate.
The roots of the seed are basically suffocated. You often have larger pieces, making it difficult for the seed to crack through the soil.
Potting Soil
Plants that grow in containers and pots require potting soil. Since it contains perlite and other materials, it is lighter than conventional gardening soil. Organic matter chunks, such as bark fines, will still be present.
They are helpful to normal plants, but not to seed cells that are smaller. Seeds often struggle to reach the surface and die before reaching the air.
Some potting mixes, on the other hand, maybe used as seed starting mixes. That is frequently stated on the package label.
Seed Starting Mix
The seed starting mix, as the name implies, is used to get seeds off to a good start so that they can expand. It's extremely fine-grained and bright. This encourages root growth and prevents the seed from compacting in the pot.
Even if you can make your own, the ingredients can be expensive. It's also messy, and you may not get the right ingredient ratio. Instead, use a commercially prepared seed starting mix, which contains everything you need.
Best Seed Starting Mixes For Vegetables & Garden Plants
We'll go through eight different seed starting mixes that are suitable for both plants and vegetables. In the table below, you'll find a list of them.
---
Miracle-Gro Seed Starting Potting Mix
If you're looking for a great way to get your seeds started, Miracle-Gro is always a good option. Since the brand is well-known, you may expect it to assist in the growth of your seeds.
This product is designed to assist in the rapid growth and development of the roots. It's also enriched with Miracle-Gro-designed plant foodMiracle-Gro-designed plant foodMiracle-Gro-designed plant foodMiracle-Gro-designed plant food.
When placing seeds in small containers, you should use this product. It's the best choice in this case. It can also be used to begin your cuttings.
This product can also be used for root cuttings, stem cuttings, and leaf cuttings. The seed starting mix in this bag is ready to use right away. That is, all you have to do is pour it into the pots, add the seeds, and water them.
If you have a lot of seeds to plant, the two-pack version of the product is a good option. Miracle-Gro brand seeds can yield up to 32 seeds per bag.
---
Espoma Ss16 16 Quart Organic Seed Starter
Everyone seems to want to go organic these days, and EspomaEspomaEspomaEspoma has a seed starting mix that can help you get started. Start your seeds off right to ensure that they thrive in a natural, chemical-free climate.
This item is suitable for all types of cuttings and seedlings. You get an all-natural product with myco-tone added to it. This is Espoma's own mix of mycorrhizae.
Myco-tone can help with transplant survival rates and development. The plants will also produce larger roots, which will encourage more water intake. Furthermore, this blend will aid in increasing your plants' resistance to environmental stresses.
This item is available as a single item, a two-pack, three-pack, or four-pack. It also comes in a 16-quart and an 8-quart scale.
The bags are sealed when they arrive, and you just rip off the tops to open them. It's not meant to be kept in the bag. You should hold it in a separate jar with a tightly sealed lid for a short time.
---
Black Gold 1311002 16-Quart Seedling Mix
The Black Gold brandBlack Gold brandBlack Gold brandBlack Gold brand is well-known, and they also sell a seedling mix. It's a complete 16 quarts, but it's also available in two or four packs. As a result, if you have a large number of seeds to plant, you can buy them in bulk.
Other ingredients in this mixture include Canadian Peat Moss. This provides adequate moisture and aeration for the seeds to grow strong roots.
You will discover that this product is organic and has been approved by the review institute. It's also made in the United States. It is, of course, ideal for root growth and can aid in the rapid growth of germinated seedlings.
Dolomite lime, perlite, and an organic wetting agent are among the other ingredients. This product can be used to germinate seeds in plug trays, containers, and flats. Most people choose flats or trays because they are more convenient, but you can use whatever choice suits your needs and is readily available in your area.
---
Burpee 8 qt Organic Coir Compressed Seed Starting Mix
Do you want to try something out of the ordinary? If that's the case, Burpee's seed starting mixBurpee's seed starting mixBurpee's seed starting mixBurpee's seed starting mix might be perfect. It's normal, but it's also packed into a brick.
This mixture degrades completely. It's also made from coconut coir. You'll discover that this renewable resource is primarily created by recycling coconut husks after they've been harvested.
Of course, it can be used as a growing medium for nearly any plant. You will be given one brick.
It should be put in a jar and watered. The compressed brick will grow to 8 quarts of seed starting mix in minutes.
It is also on the OMRI list since it is classified as organic. As a result, you can be certain that it's suitable for organic gardening.
You're going to get your hands dirty and you'll need to break up the brick as it spreads. Gloves may be appropriate for this move.
---
Jiffy Natural & Organic Starter Mix
JiffyJiffyJiffyJiffy has released a seed starting mix that is both organic and natural. It's made to look like it's from a greenhouse and is fully organic.
This starter mix includes lime, vermiculite, and peat moss, as do several others. With water, peat moss can bear up to 20 times its weight. It can also help with aeration and nutrient retention for the plants.
The aim of vermiculite is to keep the soil from compacting. With water, it absorbs about three times its height. If there is too much liquid, this will wick some of it away from the seed, preventing it from rotting.
Lime is also included, which helps to preserve your soil's pH balance. There are also wood pieces, which can help minimize soil compaction.
It comes in a ten-quart bag with enough seeds to start 32 plants. You'll also discover that the bag can be resealed. As a result, you can lock it up and use it for another day.
---
Purple Cow Organics Seed Starter Mix
Purple CowPurple CowPurple CowPurple Cow is a brand that isn't well-known. Its seed starter mix, on the other hand, is 100% organic and OMRI-listed. Enabled manure, mineral complexes, and natural granular fertilizer are all included in the blend.
As a result, your seeds will get off to the best possible start. This product can only be used to start seeds and should be used in small containers, blocks, or trays.
The roots are kept moist without being waterlogged due to the wicking action. The mixture does not compress, suggesting that there is sufficient drainage. This also enables the seeds to grow roots and emerge from the soil.
Sphagnum peat moss, Purple Cow manure, Vermiculite, Perlite, fertilizer (OMRI listed), and sea/rock minerals are among the ingredients. This product will provide you with several advantages.
The seedlings would, of course, be more durable for transplanting. Furthermore, since the plants will be upright, they will be stronger.
Check here for more products on Seed Starting MixCheck here for more products on Seed Starting MixCheck here for more products on Seed Starting MixCheck here for more products on Seed Starting Mix
---
How to Use Seed Starting Mix?
Seed starting blend is still used in the same way. You may, however, need to make some improvements to the product first. The brick type, for example, necessitates a sufficient amount of water to dissolve the bricks in the mixture.
You should use the mixture according to the instructions on the back of the box. The majority of them, however, have a similar structure.
Hot or lukewarm water is typically used to wet the mixture first. It should be moist, but not soaked through and through. There shouldn't be any dry spots, so it shouldn't look like dirt.
Make sure you have the right planting containers on hand, such as trays or flats. Fill them all the way up to the last 14 inches. When they're all finished, gently tap the entire flat to settle everything.
To plant your seeds in the starting mix, follow the instructions on the seed packets. Water the seeds sparingly. Don't use the entire amount of the initial mix.
Check the seed packet instructions for the correct temperature and lighting specifications. After that, put the trays in the proper position.
You'll leave them in the starting mix and tray until they've germinated, giving them up to 14 hours of sunlight a day. You don't want them to grow leggy, so keep them as close to the light source as possible.
You can transplant the seedlings into containers or into the garden once they are large enough. After that, you'll need daily potting soil.
Also, See The 10 Best Soil Test Kits in 2023 – Buying Guide
Is it Possible to Reuse Seed Starting Mix?
No, reusing your seed starting mix is not a good idea. Most gardeners are taken aback by this.
You've been using it for the whole season and have had great results. So, why don't you do it over and over again?
For one thing, the soil may have changed when it was first used. It's likely that it's no longer suitable for your plants. A lot of matter, such as leaves, roots, and other things, is collected in the seed starting mix.
Furthermore, the plants can deplete it of all nutrients. Nematodes and insects may also be present in the mixture. Viruses and bacteria can survive in this environment.
Note that certain insects are beneficial to the starting mix and plants. Many of them, on the other hand, can deplete the nutrients before the plant does. These pests will also consume the plant as it tries to grow and prosper, meaning you've wasted your time and effort.
Also, See Top 15 Best Pots for Indoor Plants in 2023 – Buying Guide
Sections of the root system are often left behind. There may be stragglers even though you take the ball of roots. This is detrimental to new seeds, and it may cause them to not sprout at all.
Both of these concerns have the potential to create serious problems for you during the upcoming growing season. Although you can handle the seed starting mixture first, it's usually better to throw it out and start over.
Final Thoughts
You had eight options when it came to selecting the best seed starting combination. We did find a simple winner, despite the fact that they all work well.
There's a reason why Miracle-GroMiracle-GroMiracle-GroMiracle-Gro is so famous. Its starting mix is formulated to encourage rapid root growth. It also includes enough plant food that will benefit the plants in the future. To get the best results, make sure to wet the mixture before adding the seeds.
Those looking for something a little more special may prefer the Burpee brand, which has a compressed mixture. Simply add water to the mix, fluff it up, and use it according to the instructions!
Also, See 10 Stylish Indoor Flower Pots – Affordable Indoor Pots for Your Home Gardening