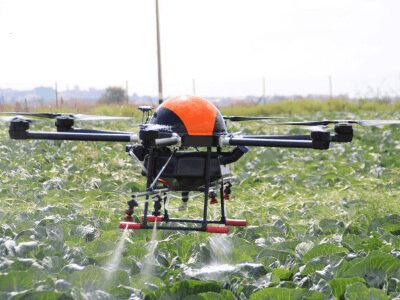 Introduction to the world and future of IoT "In the Internet of Things (IoT) – smart focused" farming, a device is designed to track the crop field with the help of sensors such as light, humidity, temperature, soil moisture, etc. and to automate the irrigation system. IoT is the convergence of different technologies, such as sensors, actuators, embedded systems, networks, wireless networking, and web technologies, etc.
Smart devices based on IoT must have unique identities, and they should have the ability to connect and interact with each other and with other network entities along with mobile and web-based platforms. Several technologies and standards for achieving the IoT vision have been proposed, and the interoperability of heterogeneous entities is a major challenge in the field. IoT applications in the agriculture industry have helped farmers track the rates of water tanks in real-time, making irrigation more effective. The development of IoT in agricultural operations has resulted in the use of sensors such as how much time and energy a seed requires to become a fully grown plant in every step of the farming cycle. We also address below topics in this article;
IoT Implementation in Agriculture
Why IoT can help in agriculture
IoT Advantages in agriculture
IoT Problems in Agriculture
Future IoT range in agriculture
IoT Variety of Agriculture
Can IoT work without Internet
Benefits and disadvantages of IoT in agriculture
A guide to IoT's future in agriculture in India, the benefits and drawbacks of IoT
The Internet of Things is the network of devices with electronics, software, sensors, and networking that enables the communication, interaction, and sharing of data between these objects. The IoT device needn't be linked to the Internet in this case. The benefits the farmers are obtaining by adapting the IoT program are double. It has helped farmers cut costs and increase crop yields.
The IoT technology in agriculture is more efficient due to the following reasons;
Connectivity Global through any app.
Minimum human efforts
Faster Access
Time Efficiency
Efficient Communication
How the Internet of Things(IoT) can shape the agri-tech industry's future?
An Indian farmer can't foresee and schedule farming activities under adverse climatic conditions. There is, therefore, a desperate need for a program that could provide reliable and precise information about the needs for crop cultivation. Below are the few ways IoT can shape the future of the agri-tech sector
Soil Sensors – Soil sensors test essential soil components such as pH, acidity, salinity and critical nutrients such as nitrogen, phosphorous and potassium. This data is then transmitted to the main controller which, through the drip irrigation technology, automates the process of releasing critical fertilizers and soil conditioners.
Also, see Types of Soil and Crops Suitable Grown in India
Water management – Technological advances such as drip irrigation have helped conserve water, but more needs to be done to ensure that crops get plants when they need them most.
Integrated Pest Management or Control (IPM / C) – Pests are the greatest enemy of farmers and they kill their crops, so the farmer has to suffer losses or expend loads of money available to save whatever is possible. IoT should play a major role in detecting the pests at the right time to avoid this problem.
Hydroponics and Aeroponics – IoT system has made possible the development of Hydroponics and Aeroponics. These systems are made up of different sensors, pumps, mixers and humidity controllers which send in a lot of data at regular intervals. All Hydroponic and Aeroponic systems are fully automated and are connected via IoT.
Also, see What you should know about Hydroponics – The Water Way To Grow Plants
IoT for agriculture for remote monitoring
In agriculture in India crop monitoring is the future of IoT
The essential feature of precision farming is a crop monitoring apparatus. Similar to weather forecasting stations, these devices are installed in the farm to collect data needed for farming, including soil temperature, leaf-water potential precipitation, and overall crop production.
Livestock management and monitoring are the future of IoT in agriculture in India
Similar to crop monitoring, there are IoT system devices that can be used to monitor the health of livestock and track their performance. Large farm owners could use wireless sensors to gather data about the location and health of their livestock, which can minimize labor costs such as ranchers to locate cattle. IoT devices may warn farmers about certain disease-affected animals and isolate them from the herd, preventing disease spread.
Climate monitoring and greenhouse farming are the future of IoT in agriculture in India
The IoT for climate monitoring is probably the most popular among farmers. As the devices are combined with smart farming sensors and they collect various data from the environment and sent it to the cloud to map the climate condition. With the aid of this data, farmers select appropriate crops and take the necessary measurements to improve the crop yield.
How does IoT apply to agriculture?
Generally speaking, the IoT refers to devices that exchange information over the internet and can operate on each other. IoT in agriculture is a subset of IoT space that focuses on crop and livestock data generation, health assessment, related issues more effectively than a human input.
In agriculture, the main function of IoT is to incorporate a control, decision-making and action circle into agriculture. First, measurements on a crop condition are taken by attached sensors. The large amounts of data are condensed into a format that the farmers can easily understand. The obvious outcome is greater performance. Farmers can make educated decisions about appropriate crop treatments by always having relevant data at their disposal. They can forecast yields, and schedule related costs of labor. This is called precision agriculture.
IoT is closely related to automation, so it needs less human interaction and fewer workers. The resulting crop yield rises and reductions in overhead and operating costs make agriculture more competitive. Also, this can benefit from IoT adoption not just for large-scale farming activities, but small family farms, organic farms or even rooftop gardens.
IoT challenges in the agriculture sector
The IoT device is considered to be the main driver of transformation in the agricultural sector for years to come. IoT devices enable farm managers to track crops in real-time, with precise planting, livestock management, and smart greenhouse management, etc.
Unfortunately, there is too high a rate of worker turnover from the agricultural sector to other industries. Unlike other industries, IoT system devices installations and maintenance are a little troublesome and need lots of investment.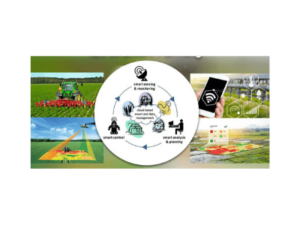 Many difficulties that farmers face when implementing IoT for agriculture;
Lack of Infrastructure – Even though the farmers embrace IoT technology, due to weak communication infrastructure they would not be able to take advantage of this technology. Farms are situated in rural areas and away from internet access. A farmer needs to have secure access to crop data from any place at any time, so link problems will make an advanced monitoring system in vain.
High Cost – In agriculture the equipment required to implement the IoT program is costly. Sensors are the least expensive part, but it would cost more than a thousand dollars to equip all the farmers 'fields to be with them.
Lack of Security– IoT devices communicate with older devices that have access to the internet network, so there is no assurance that they will be able to obtain data readings from drone mapping by using public connections. IoT agricultural systems gather large quantities of data that are difficult to secure.
IoT applications in agriculture
Monitoring and control systems
Various IoT-based systems for tracking and managing environmental conditions in greenhouses have been proposed; and tracking and decision support systems for the application of agricultural fields.
Livestock monitoring is the future of IoT in agriculture in India
Large farm owners may use wireless IoT device applications to gather data about their cattle's position, welfare, and safety. And this helps them recognize sick animals so they can be isolated from the herd and thus avoid disease spread. It reduces labor costs, as farmers can locate their cattle using IoT-based sensors
The smart irrigation system is the future of IoT in agriculture in India
Water is a vital input for crop production in almost all areas of agriculture. Even strong plant seeds and fertilizer fail to realize their full potential without sufficient water. With about 17 percent of the world's population, India has 4 percent of the world's freshwater wealth.
Agri-business management
Integrated information ecosystem based on IoT, with information obtainable on a single platform from fields, transport systems, processing units, markets and export houses, quality improvement, cost reduction, increased benefit, and sustainable selling prices, etc.
Applicability of IoT in agriculture
IoT smart farming is a high-tech and productive form of sustainable farming and food growing. It's an activity in the agriculture of integrating tools and emerging technologies. Therefore, smart farming depends primarily on IoT, reducing the need for farmers and growers to do physical work and increasing efficiency in any way possible.
With the recent developments in agriculture-dependent agriculture, IoT has brought enormous benefits such as effective water usage, input optimization and much more. IoT-based smart farming improves the whole of agriculture by real-time field monitoring. The IoT in Agriculture has not only saved the farmers 'time with the aid of sensors and interconnectivity, but also the wasteful use of resources such as water and electricity. This holds under check various variables, such as humidity, temperature, soil, etc. and also provides a crystal clear observation in real-time.
Impact of IoT on agriculture
IoT-based smart farming is designed to track the crop field with the assistance of sensors such as light, precipitation, temperature and soil precipitation, etc., and to automate irrigation. Compared with the traditional approach IoT is highly effective. The IoT device providers continue to build systems capable of communicating and sensing accurately measured environmental data to enhance farm performance. Several technologies that are behind these IoT platforms, including drones, LED lamps, energy storage, transmitters, microcontrollers, etc.
It is designed to help farmers track critical information such as humidity, air temperature and soil quality using remote sensors, and increase crop yields, and make harvest predictions. One way to increase productivity and ensure the quality of food in the supply chain is through the use of satellite imagery and IoT track-and-trace equipment to control farming operations from harvest to distribution. Integrated with Web Map Service (WMS) and Sensor Observation Service (SOS), the IoT framework offers a solution for the management of water requirements or crop irrigation supplies. It analyzes the requirements of crop water smartly and uses available water supplies to reduce waste.
IoT in agriculture allows obstacles to be eliminated and all the issues that occur during farming processes to be minimized. Therefore the product quality is increasing and customers are having a strong high-quality product. The IoT transforms the agricultural industry as never before by enabling farmers and growers to overcome the immense challenges they face. Farmers are likely to be affected by unanticipated changes in the environment, economic downturns, and many other risk factors.
IoT devices may be of assistance to farmers in different ways. To allow farmers to obtain an abundance of informative data such as the temperature of stored goods, the amount of fertilizer used, the number of seeds planted, the storage conditions, the status of farm equipment and machinery, sensors can be installed across farms and farm machines.
When an IoT- program is in place, farmers can easily monitor and make informed decisions on a variety of environmental variables. More than just an improvement, IoT farming is a necessary advancement that could help farmers cope with all the challenges they face in farming if properly implemented. The rich insights obtained from smart sensors could also enable farmers to be more effective in using pesticides and fertilizers, thereby mitigating environmental impacts. IoT device monitoring of plant and soil conditions is a simple case of use which can result in a fantastic return on investment for farmers using sensing technology.
Agricultural drones are future of IoT in agriculture in India
Agriculture is one of the major industries that utilize drones, and in agriculture, drones are used to improve various agricultural practices. The advantages of using drones include crop health imaging, interactive GIS mapping, ease of use, time-saving, and ability to increase crop yield.
The drone technology will offer the agriculture industry a high-tech makeover with strategy and planning focused on the collection and processing of real-time data. There are several ways of using ground-based and aerial drones throughout the crop cycle. Agricultural drone use usually is surveying or mapping. The aerial perspective drones provide diminishes the need to go row by row to test the health of the crop.
Benefits of adopting IoT in agriculture
The entire IoT ecosystem consists of sensors that can very accurately detect real-time weather conditions such as humidity, rainfall, temperature and more.
To make our greenhouses smart, weather stations have been activated by the IoT system to automatically change the climate conditions according to a specific set of instructions. The implementation of the IoT method in greenhouses has reduced human interference, making the whole process cost-effective and, at the same time, that precision.
IoT approaches are geared towards maximizing the use of resources such as water, energy, and land. Precision farming using the IoT system relies on data collected from various field sensors that help farmers precisely assign enough resources to one plant.
IoT in the agricultural industry has helped farmers sustain crop quality and soil fertility, thus increasing the quantity and price of the products.
In agriculture, IoT device systems incorporate automation, such as demand-based irrigation, fertilizing, and robot harvesting.
Advantages of IoT in agriculture
The Internet of Things allows problems to be avoided and all issues which may occur during farming processes to be eliminated. Therefore the product quality is increasing and customers are having a strong high-quality product.
Water treatment can be carried out effectively using the IoT system without the use of sensors for wasting water.
The IoT device helps to track the land constantly so that steps can be taken early. It increases efficiency, decreases manual labor, decreases time and allows productive farming.
The monitoring of the crop can be done easily by using IoT to track crop production.
Soil control such as pH level and humidity content etc. can be easily identified so farmers can sow seeds according to the soil level.
The amount of time saved may be very high because of the IoT program. And we can all use more energy in everyday life today.
Disadvantages of IoT in agriculture
IoT – smart farming continually requires internet connectivity. The developing countries 'rural portion did not follow those criteria and the internet is slower.
The IoT related equipment allows the farmer to understand the use of technology and to learn. It is the biggest challenge for the large-scale implementation of smart agricultural framing across the continues.
Given any security measures, the system offers little power and can lead to various kinds of network attacks.
It is very complicated to plan, build, manage and allow the broad technology to IoT framework.
Check Products on Amazon.com for Agriculture Drones for SprayingAgriculture Drones for SprayingAgriculture Drones for SprayingAgriculture Drones for Spraying