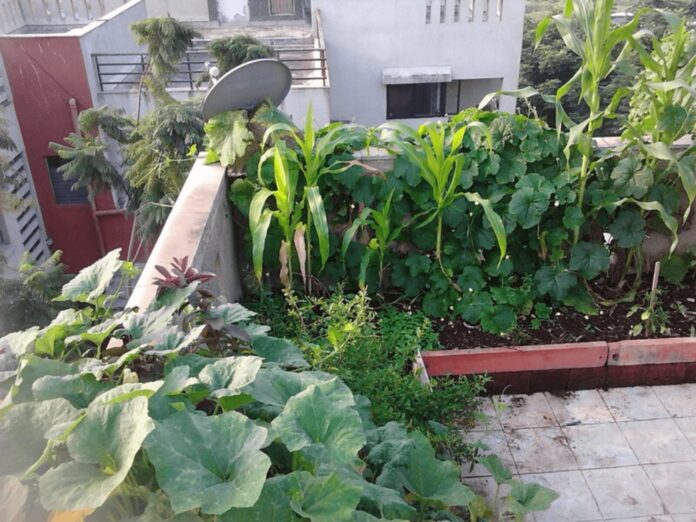 What are the Different Things to Learn Before Starting Organic Terrace Garden: Now the Organic Terrace Garden is the term used by many of us. Growing an Organic Terrace Garden is the main advantage of being able to get fresh vegetables for your house. Without poisonous substances, not only fresh but also healthy. Who's not conscious of nutrition these days? It's everybody. Having an Organic Terrace Garden will also help us engage in a leisure activity. It serves as the best stress-buster in our stressful and busy lives.
Most people start gardening on a terrace in urban areas. Yet how many of them are properly maintained for an extended period of time? Not many of them. This is partly due to a lack of planning and training. To Start Organic Terrace Garden, both of them are very important. Most of them don't do that. I also don't know what stuff to think in Designing Organic Terrace Garden or Plan Organic Terrace Garden. This causes them to leave in between this Terrace Gardening. We have brought some important things to consider before you begin with the Organic Kitchen Garden or Terrace Garden to provide you with some support.
List of Things to Know Before Starting gardening on the terrace:
Identify the Space on Your Terrace
Make a Plan to Divide the Available Space
Watering/Irrigation
Waste Management
Composting
Knowledge about Various Terrace Garden Plants
Organic Terrace Gardening Supply
Budget
Staring Small Organic Terrace Garden
Little Bit of Patience
Once you plan Organic Terrace Garden, these are some of the essential things to consider. If you are careful with these things, you can enjoy your Terrace Garden without any problems.

How to Design and Plan Your gardening at home terrace:
You've just seen the list of things in the section above. You'll know them in-depth now. By reading this article, you'll get to know a lot of things.
1. Identify the Space on Your Terrace:
You need to define the position you have before you begin your terrace garden. Such as your windowsills, balconies, your rooftop, you can access the area. You should make a plan for your terrace garden, depending on the location you have. It includes the plant form to grow in these windowsills, balconies, rooftops. The main thing to keep in mind is that the place you choose should have direct sunlight for at least 4-5 hours. This dimension is so much necessary.
2. Make a Plan to Divide the Available Space:
You must draw up a plan to divide the available space once you have defined the location you have. A variety of vegetable plants, including shade plants and normal plants, can be grown. You have to divide the space according to the sunlight and the space that the vegetable plant that you grow requires. In addition, space should be reserved for nursery, composting, waste management, storage, etc.
3. Watering/Irrigation:
One of the things most people do is not water the plants that often have vegetables. When you grow on your rooftop vegetable plants, water evaporates rapidly. The plants, therefore, need water on a daily basis, especially during the summer. You will water once in two days in the Monsoon and Winter seasons. During the rainy season, you can plan for water harvesting.
4. Waste Management:
If you have a garden, you're going to have a lot of waste as well. That could be dry leaves in the vegetable garden, or twigs, or any other stuff. You should, therefore, have proper management of waste. You can use some of the waste as a mulch in the summer season to prevent the water loss from the soil. You should remove the waste from your Terrace Garden, other than that.
5. Composting:
Having an Organic Terrace Garden is one of the best benefits of being able to turn your home into a zero-waste zone. All the waste you generate can be turned into compost in your home as well as in the Terrace Garden. All you need to have is a composter tub. You have to add all the waste to this bucket and add soil in a span of 30 odd days to make perfect compost. You can use this compost in your Organic Kitchen Garden as the Organic Fertilizer.
6. Knowledge about Various Terrace Garden Plants:
Since you want to grow some vegetable plants, you should know what the best organic terrace gardening plants are. Seasonal vegetable plants should also be recognized. You should have information that will grow plants in summer and decline in winter. You can grow them in your Kitchen Garden and keep them properly according to that list.
7. Organic Kitchen Gardening Supply:
You ought to have a continuous supply of Gardening. To start Terrace Garden you need a variety of things. Seeds, organic fertilizers, for instance. You ought to have a store that will give you the best stuff. Recall this in the Things to Learn list before beginning the Organic Terrace Garden.
8. Budget or Cost of Organic Terrace Garden:
Budget is one of the main things to know before beginning the Organic Terrace Garden. You don't have to put a lot of investment into the Terrace Gardening. You need to invest in buying containers, seeds, organic fertilizers, and other equipment for farming. Even if you don't want to buy the containers, you can still start terrace gardening at your home. For your kitchen garden plants, you can use the old buckets as the containers. If you want to pay a little more, you can go with some good options.
9. Staring Small gardening in terrace:
This is not understood by most people. But let me remind you that before starting the Organic Terrace Garden, it is one of the primary things to know. You are not expected to start high. It's a hectic thing to have no expertise in planning and maintaining a large terrace garden. Then start tiny at all times.
10. Little Bit of Patience:
You should have a bit of patience, last but not least. Once you don't get a good yield, you shouldn't quit gardening on your terrace. You can increase some good yield if you demonstrate some patience. There are some of the important things that you can do to increase the Kitchen or Terrace Garden Yield.
Before beginning the Organic Terrace Garden, these are the different things to know. We hope you can follow all of these suggestions and start a better garden terrace than others.
Final Thoughts
These are just a few tips that will get you started with your garden terrace and its design. But realizing that the program can not be a very tight one is a positive thing. Do have a flexible plan. Use your plan as a guidance document and not as a prescription. A garden is a full-plant ecosystem, weeds, insects, and microorganisms. It has its own life and mind. So you will have to run with it at times and you will have to make changes to the course at other times. And it is going to be a juggling skill that you can only master with time.
Related Posts