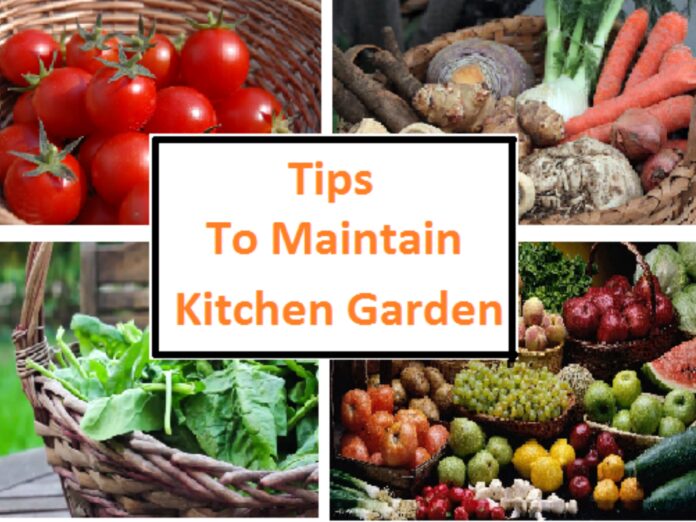 Quick Kitchen Garden Tips: You know what Kitchen Garden is when you read this. Since in this busy urban life, there is no need to describe all the advantages and drawbacks of Kitchen Garden. Kitchen Garden's Importance is such that people try to incorporate it into their home. Now people in India are going towards it, especially the people of the city. While there is no such problem facing people in the village areas. In their backyard, they cultivate their own vegetables. In comparison to the people living in urban areas, they eat fresh and healthy vegetables.
Also Check: How to Prepare Panchagavya
You may want to learn some simple tips to keep Kitchen Garden if you've come so far. While at home anyone can start a Kitchen Garden, maintaining it is not that easy. This needs a certain array of skills. Main Kitchen Garden includes other techniques. Otherwise, the Kitchen Garden yield is zero. So if you're looking to know how to keep the Kitchen Garden, that's the place. For Kitchen Garden, you'll get all the tips and tricks. In addition, review below to see the full list of tips for Kitchen Garden maintenance.
How to Take Care of Kitchen Garden Plants
How To Plan a Low Maintenance Kitchen Garden:
Growing your own food on a small scale is very fun and satisfying. It's simpler in your everyday life than most of the things you do. Growing vegetables can result in fresh and healthy food in your kitchen garden, which is more important than the money you receive. But the main issue here is the amount of time you need to spend. You can then obey these basic tips to create a Kitchen Garden with low maintenance. Review the Kitchen Garden Tips below for cost reduction and yield increase.
1. Grow Vegetables that You Eat
What is the use of putting all your effort into growing vegetables in your family that no one eats? You should, therefore, grow vegetables that you and your family can eat. You have to make a list of all the foods your family is going to eat for this. You have to make a plan for your Kitchen Garden, depending on the type and amount of vegetables. Though this looks not that important, this Kitchen Garden tips are very essential.
2. Select East Vegetables to Grow
It's also a waste of time and effort while cultivating hard-to-grow vegetables. Therefore you should also look for easy-to-maintain vegetables. Search for the kind of vegetables that need less attention as well. Check below to learn about various crops you can easily grow in different seasons.
Summer Season Crops: You can grow cucumbers, bush tomatoes, beans, etc. in the summer season.
Winter Season Crops: Carrots, lettuce, radish, spinach, onions, potatoes, peas can be grown in the winter season.
How to Maintain Kitchen Garden Plants
3. Purchase Transplants For Kitchen Garden Tips: Although growing seed vegetables is an exciting experience. But you don't need a lot of valuable time. So if you start from the transplants, it's pretty much better. You can grow a variety of vegetables with transplants. You'll also get the yield from your Kitchen Garden in a very short span. In less time, you can also begin another plant.
4. Start Small: If you're looking at a Kitchen Garden plant, you've got to start tiny. The cost of the kitchen garden will also be reduced. If you invest a lot of money in a Kitchen Garden on a large scale, you'll lose a lot of money if it fails. Never seek to do that, therefore.
5. Having Proper Knowledge of Kitchen Garden: Keeping a Kitchen Garden is not that easy. For a number of reasons, people are failing to sustain it. Users also search the internet to find out how to build the Summer Kitchen Garden. All these issues are due to the lack of sufficient Kitchen Gardening information. Try to attend workshops and watch some videos from Youtube.
These are the numerous kitchen garden tips you may need to maintain a proper vegetable garden. I hope you're sharing this guide with your family and friends.