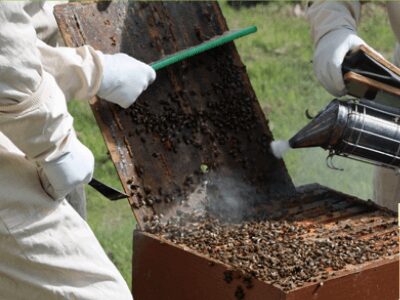 What are the Common Mistakes New Beekeepers Do: If you are a new Beekeeper who has started a beehive recently, then this is the article you should refer to. Yes, Beekeeping is one of the interesting things to do on a regular basis. It is very easy to Start a Commercial Beekeeping at Home/Farm. But people tend to do some mistakes that will lead them nowhere. They finally end up with no bees, no hives, just because of some small mistake. Hence we have come up with a list of 5 things, that all the New Beekeepers do. Once you know these common mistakes that other Beekeepers do, there is a good chance of not repeating them.
List of 5 Mistakes New Beekeepers Do Unknowingly:
No one does these sorts of mistakes Knowingly. There can be many reasons for it. Lack of knowledge, or Having wrong Beekeeping Information. Whatever the reasons, are if one does some sort of mistake, they end up making a mess out of it. So check the below things for your Beehive benefit.
1. Beekeepers Start With One Bee Colony: This is one of the common mistakes that most of the Beekeepers Do. It is always best to start with two Bee Colonies. This is because of the knowledge that you will get to know with two Colonies. You can compare both of them, you can learn how to deal with them. Hence always try to start with 2 Bee Colonies.
2. Placing Bee Hive in a Wrong Place: If you check out our Tips to Start Beekeeping, you will know where to Place a Beehive. It is best to Place the Beehive or Bee Colony in a place where you can easily see. Also, the place should be easily approachable. Make sure that the Beehive is not in a place where radiation and pollution are high.
3. Harvesting Honey Too Early: Yes, we do agree that Harvesting honey is one of the primary things to Start Apiculture at Home. But in an eagerness, many New Beekeepers tend to harvest Honey way too early. This will not fetch you any results. In turn, this will lead to Low Yield of Honey from Beehive.
4. New Beekeepers Do Not Recognize Absence of Queen: You might be thinking what is the big deal with this thing. Queen is the one that is responsible for laying eggs. If there is a continuous laying of eggs, then the worker bees will bring nectar for the new ones. If there is no Queen, then the other Bees will migrate from your hive. Hence you have to have an eye for Queen Constantly.
5. Not Feeding New Bee Colonies: One should keep this in mind that it is as essential as anything to feed the colonies. And in particular, If there is a New Bee Colony then, you must and should Feed them. Otherwise, you will lose some good chance of making a good amount of honey yield.
These are some of the Mistakes New Beekeepers Do. We hope that you do not commit the same mistakes that other new beekeepers are committing. Happy Beekeeping.