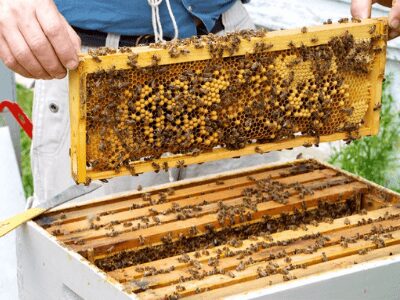 Loans and Commercial Beekeeping Subsidies in India: Beekeeping in India is turning out as the best Agri-Business. Especially in rural areas, where this is acting as the secondary source of income. Now that it has some prominence in terms of Agri-Business, many are trying to Start Honey Bee Farming in India. We have given enough information on the same. Our last article was on the Income of Commercial Beekeeping in India. If you got to know the income from the first year itself, you will definitely bat an eye on this Beekeeping. Now we will try to give information on the Commercial Beekeeping Schemes in India.
List of Commercial Beekeeping Subsidies and Schemes in India:
If you want to Start Beekeeping in India, the government is ready to help. For this Apiculture, there are some boards. Among such, National Honey Bee Board India is prominent. People have benefited from the various National Bee Board Schemes. Apart from National Bee Board Schemes, it also provides training to people who have an interest in this Apiculture Business The Government is ready to provide 35 percent Subsidy on the Beekeeping Business India. The ones who will get this subsidy has to invest only 5 percent from their pockets.
Commercial Beekeeping Subsidies
Keeping this aside, the government is also helping in the marketing of Honey. This is one of the important stages where beekeepers are facing difficulty. Hence the government is intervening here. Apart from these, the National Bee Board is also coming up with various schemes. All these things are for the benefit of rural farmers. In case, if there are some new Schemes in Beekeeping in India, then we will update here. Now check below to know more about the Commercial Beekeeping Loans in India.
List of Commercial Beekeeping Loans in India:
If you are trying for a loan for beekeeping in India, then you can check the below information. Among many banks, IDBI Bank is providing loan for Commercial Beekeeping in India. They call it as Bee Keeping Madhu Makshika Palan. This Bank is providing loan for individual farmers and also non-farmers. Apart from that, SHGs, NGOs can also get this loan. You have to use this loan money only for setting up units for the production of Honey. You can get the subsidy for this loan from the government bodies like KVIC / KVIB / DRDA. One has to pay back this loan between 5-7 years. You can pay the loan in a quarterly or half-yearly installment. For this loan, the IDBI Bank is giving 11 months gestation period.
These are some of the different Commercial Beekeeping Subsidies and Loans. Furthermore, check the below link to know more about the Apiculture Farming in India.