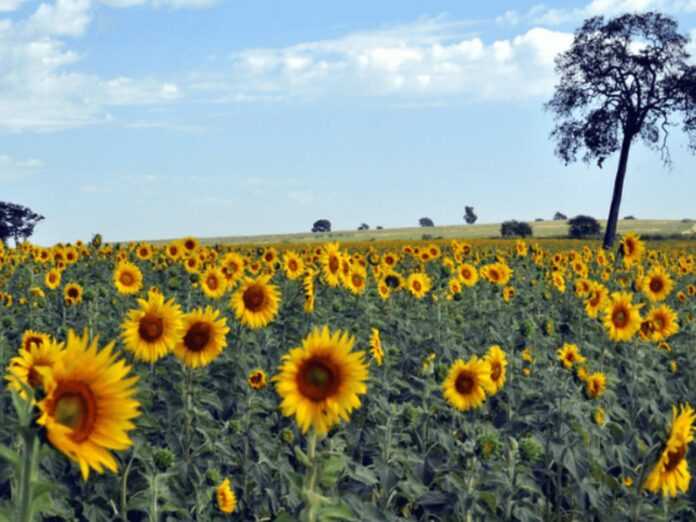 What is Sunflower Oil?
Sunflower oil is the non-volatile oil that can be easily extracted from the seeds of a sunflower. It is used in preparing food as a drying agent and in cosmetic formulations as well.
The sunflower oil is very rich in vitamin E, light gold in color, low in saturated fats and high in polyunsaturated fats.
Harvesting Sunflower Seeds
One way to harvest sunflower seeds is when the seeds fully ripen on the stem. Cut the stem for about one inch below the head, when you see seeds fully ripened and loosened from the head. Post which, the seeds can be rubbed with your hand, with chaff blown off, followed by allowing the seeds to dry before you store it.
Another method for harvesting sunflowers is when two-thirds of the seeds are mature. Then, a longer piece (about 3 to 4 inches) of the stem is cut. Followed by wrapping a paper bag around the head. The heads can be hanged in a well-ventilated region which is warm enough for a few weeks to dry.
After seeds are harvested, they may be dried first and then stored for a longer time period. Ensure to store it in a sealed/airtight container.
Facts about sunflower oil
Sunflower oil is the non-volatile oil pressed from the seeds of a sunflower.
Sunflower oil is a mixture mainly of the polyunsaturated fat, linoleic acid, and the monounsaturated fat
Sunflower is one of the fastest growing plants.
Sunflower seed oil is obtained from the seeds within the brown hub in the center of the sunflower plant.
Sunflower oil is light in taste and more in vitamin E.
Sunflower oil is mainly composed of less-stable polyunsaturated and monosaturated.
Sunflower oil Extraction Process
The manufacturing processes of sunflower oil production involve:
Cleaning of the seeds, grinding of the seeds, pressing and extraction of crude oil from these seeds.
Benefits of sunflower oil
It is rich in Vitamin A and E, known for improving skin health and promotion of cell regeneration
Helps to prevent cancer
Boosts energy levels in the body
Prevents heart disease
Strengthens immune system
Reduces the severity of arthritis and asthma
Protects skin against damage caused by sun and aging
It does have higher omega-6 content than most other vegetable oils.
Believe it or not:
Did you know that sunflower harvesting is also a favorite pass time of deer, squirrels, birds, and mice?
Did you know that Sunflower oil is classed suitable for industrial purposes such as oil-based and light-tinted paints and used as a carrier or adjuvant for pesticides?
Sunflower harvesting has a significant history in Western countries. Needless to say, it is an integral part of the Indian tradition. They have been a part of an Indian's diet for years. It is one of the most appreciated oils for domestic use. Sunflower harvesting is a pleasurable, easy and fun-filled activity to cultivate. Sunflower oil and seeds are of many resources to mankind as a whole. Hope this article has given you sufficient insight on Sunflower oil and seeds. Wish you a great harvesting time!