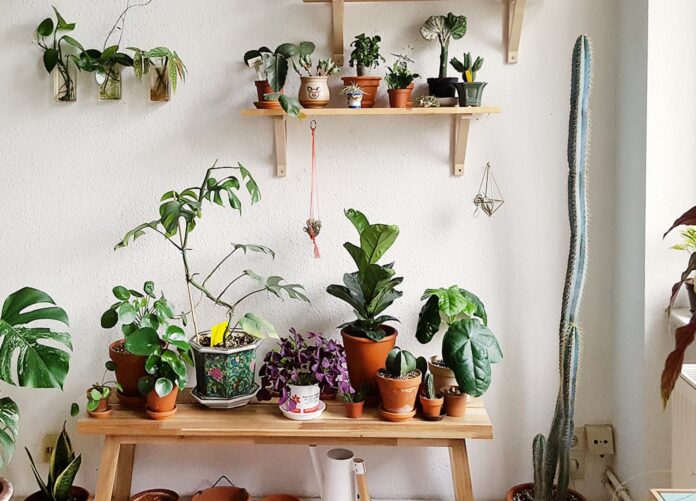 Gardening can be a stress buster for many of us out there. It is an amazing physical activity that can really ground you to the present and you can just let all your worries melt away working with your little houseplants.
Especially with the onset of the pandemic, many of us are confined in our homes and gardening has given a way out of our incessant boredom.  If you need a little push to spruce up your indoor garden and give it a little exotic twist with purple hues etched in your leafy friends, we got you covered.
We have with us a comprehensive list of many purple houseplants for you to choose from and give your garden a makeover. Let's get into it!
1. Caladium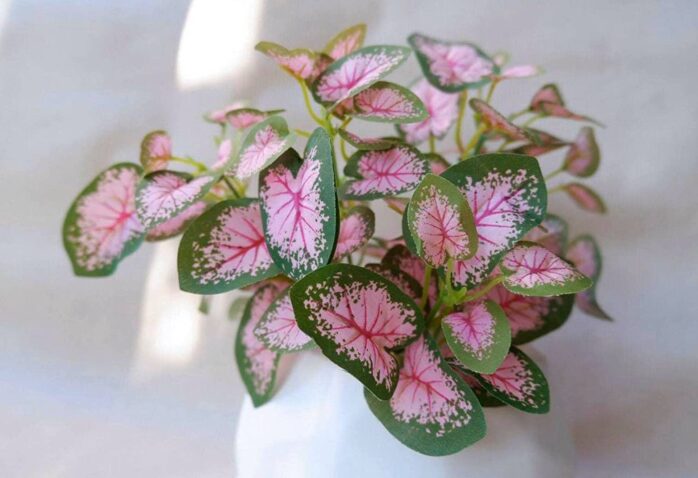 You can identify this particular plant from a mile away. Resembling an elephant ear, Caladium is sometimes also called the same. Other than that you might also know it as angel wings. This beautiful little plant has large leaves with foliage as thin as a wafer.
With different interesting patterns, it sure will enhance the look of your garden. Sometimes you may see one even shaped like a heart, arrow, or even a lance. Originating from central and southern parts of America, Caladium comes from the Arum family. It can potentially grow up to 60 cm.
Be sure to keep the soil moist during its growing season and make sure that it gets 3-4 hours of filtered light in a day. The best temperature for Caladium is 60⁰F during the night while 70⁰ F during the daytime.
For best results keep the humidity levels at 50 percent or higher. Using well-drained soil with rich organic matter will give your plant the best results. Also, try to apply the 5-10-10 formula during every month of the growing season.
2. Coleus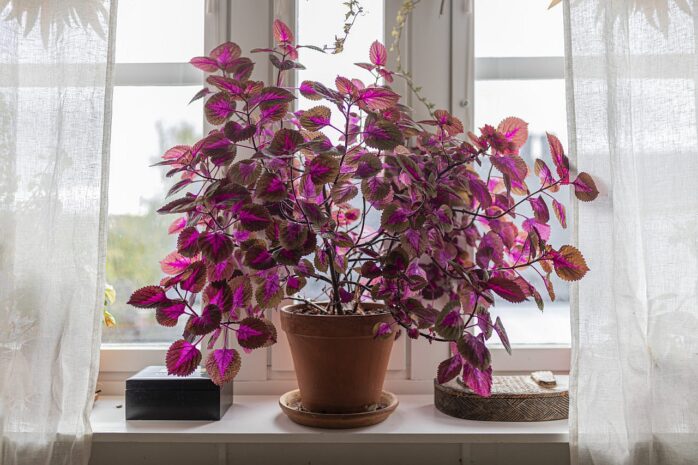 Scientifically known as the Plectranthus Scutellarioides, Coleus is a very beautifully ornamented plant that can be grown indoors as well as outdoors. And if you want a purple houseplant, this might be the one for you.
Structurally small, you can easily take care of this little beauty. Adoration from visitors is something you should get ready for if you're bagging this vibrant eye-soothing plant for your house.
Coleus is essentially a Southeast Asian and Australian-originated plant belonging to the family Lamiaceae. It can potentially grow up to about 36 inches making it one of the petite and cute plants in your garden. Do not forget to water this plant at least once or twice a day during warmer seasons.
For light, make sure it gets good sunlight and maybe a little shade. The best temperature for this plant would be 70⁰F to 100⁰ F. It requires a moderate to high humidity level, so watch out for that. Your plant needs a liquid fertilizer to boost its growth so make sure to feed it at least once every week for a happy garden.
For its soiling, do notice if it has a good drainage system and has enough perlite for it. Do not overwater this plant as it might lead to its root start rotting thereby killing your plant eventually.
3. Iron-Cross Begonia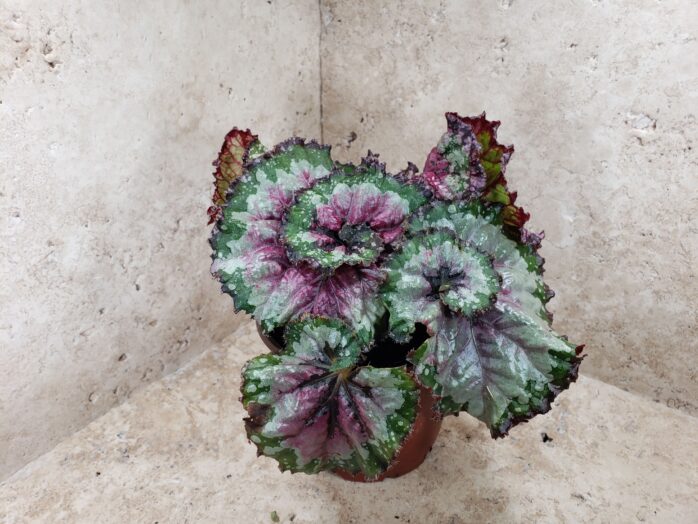 The next one on our list would have to be Begonia Masoniana. Confused? Well, it is the scientific name of Iron-Cross Begonia. With its wide leaves and darkened hues, it is surely the belle of the ball.
The name comes from the fact that it looks similar to the German iron cross. The foliage of this particular plant is uneven and pebbled with tints of purple blooming.
This plant belongs to the family Begoniaceae and originates from China and Vietnam. It can grow up to around 18 inches, so prepare your pots accordingly. This plant has a fungus risk so try to keep the foliage wet. You must water the soil at least once every week.
Make sure that if you plant an Iron-cross Begonia, it gets bright sunlight but not directly. The best temperature for this plant is around 65⁰F to 75⁰F. With high humidity levels, your plant will grow to its optimum capacity.
For fertilizing, do it once a month by using the 10-5-5 formula. Make sure that the soil is neutral to acid and alkaline. Do not forget to add perlite for proper drainage. Like many others, this plant is also prone to overwatering which will cause mildew due to its drowned roots.
4. Ti Plant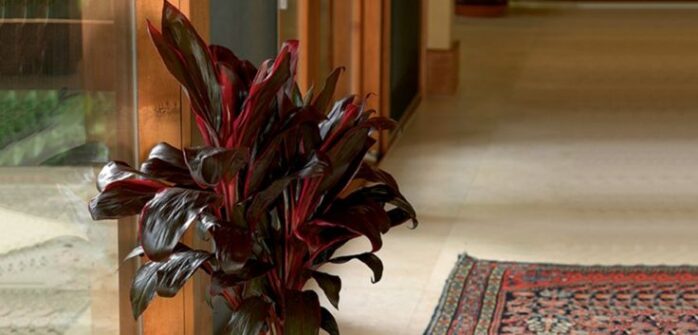 If you are looking for purple plants, this one delivers you that purple that is why it is on the list. This plant will certainly add a class to your garden that it wanted. With long foliage, you can place this plant in your room for a vibrant appeal.
There are different varieties of this plant and most of them have the same strappy leaves with very bright shades of purple.
Ti Plant originates from the Southeastern region of Asia and the Western Pacific Ocean regions. Born in the Asparagaceae family, this plant can grow up to 10 feet. You can decide to water this plant frequently but only in little amounts.
The best temperature for this plant is around 65⁰F to 95⁰F. Make sure it is placed in a place where it receives partial sunlight and the humidity levels are at 40 percent to 60 percent. You have to feed it high nitrogen for its fertility.
It thrives under acidic soil so make sure to check the pH of the soil. Do not overwater this plant as you might unintentionally make the leaves drop down. Also, make sure that it doesn't receive too much sunlight as it will turn a yellow shade from its beautiful purple.
5. Purple Oxalis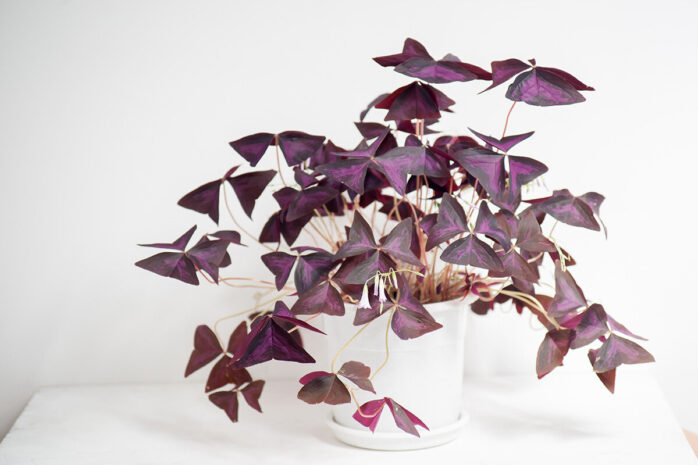 The plant is a full-on purple splash to your garden that you wanted. The scientific name being Oxalis Triangularis, this little leaf-shaped plant looks like a burst of starry purple blossoms. With very delicate foliage the small flowers in this plant make it the perfect decorative choice for your indoor garden.
You can grow this plant in containers and look at this tiny butterfly-shaped plant come to life. It mostly remains closed during the night but if you put it in partially shaded environments then it will start to open up as you notice.
Originating from Brazil it comes from the family of Oxalidaceae. Has a potential growth height of around 25 CM making it a very small plant.
Do put this under a partial shade environment and make sure that it gets a temperature of around 60 degrees to 70 degrees. It thrives under a moderate humidity level. Do try to put mist on the foliage from time to time.
You can get fertilizer to feed every 2 to 3 weeks and for the soiling make sure you get a very rich soil that has a very well-drained potting mix.
A few of the problems with this plant are that you might observe powdery mildew and the occurrence of white spots on the leaves that appear due to possible sunburn.
6. Begonia Maori Haze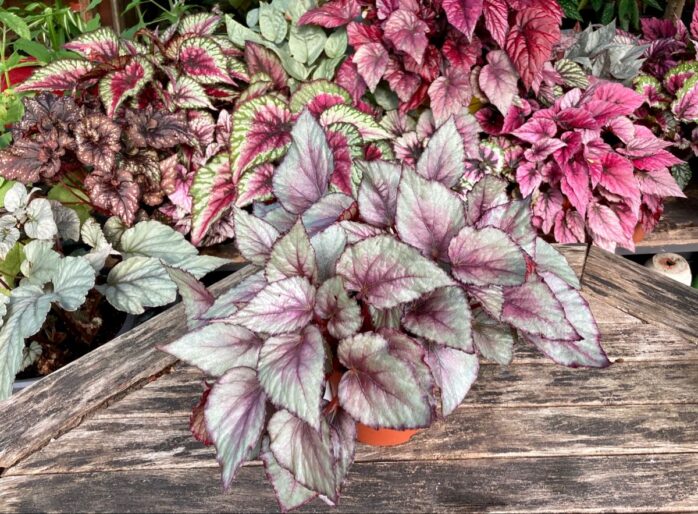 Next is this beautiful little number begonia Maori haze that will make your garden pop with the perfect purple. This little plant is also known as begonia Rex be leaf and it doesn't have a scent of its own. The foliage of this tropical plant is a sight to behold.
This perennial rhizome originates from Brazil from a family called Begoniaceae. The potential height of 40 to 60 CM this plant is moderately tall. The watering for this plant differs from season to season. During the growing season make sure to water it regularly while during winter reduce the watering.
Do not put this plant under any direct sunlight but do a mixture so it receives some amount of light during the day. The best temperature for such plants is 72⁰F during the day and at night make sure it receives at least a 64° F temperature.
The humidity level that it thrives on is higher, so, make sure to mist around the plant frequently. Use fertilizers only during the growing season and as for the soil, this plant prefers a slightly acidic one. Plants of this kind may form powdery mildew which needs to be treated with fungicide.
7. Echeveria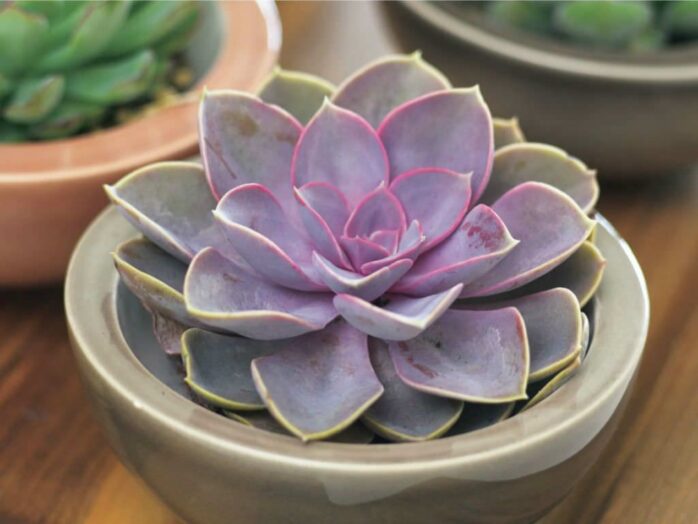 From the natives of semi-desert regions, these are flowering plants with a unique design for their leaves. Primarily house plants, these plants are shaped like rose succulents. The leaves of this plant are very fleshy with a waxy texture on the outside.
Traceback the origin of this plant to Central America from a family of Crassulaceae. It can potentially grow up to 12 inches. That you do not overwater this plant. Watering it once every 10 days works. The plant needs full sun so try to place it in a place where it can get direct sunlight.
The best temperature for this plant should be a subtropical climate with an average humidity level of 40%. Does not necessarily need a fertilizing portion but if it somehow stops, you can apply a cacti fertilizer.
The soiling of this plant needs proper drainage so make sure it has perlite and make sure you water it consistently as poor watering may lead to wilting leaves.
8. Greenovia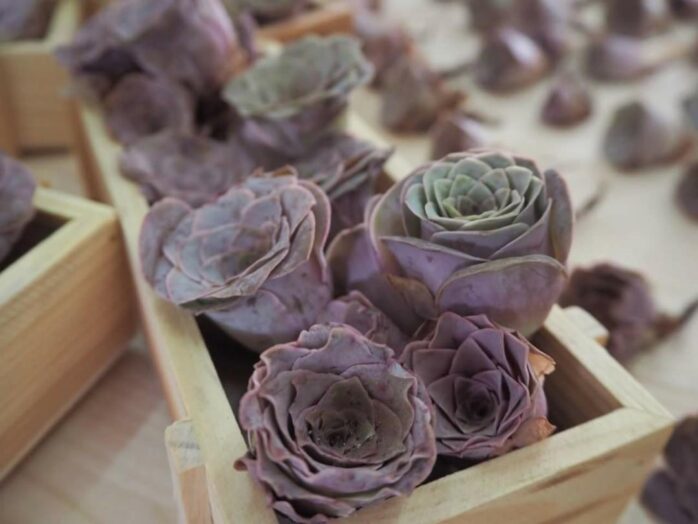 Now if you look at the pictures of this flower, it is guaranteed that you're gonna want it for your garden. It is a succulent plant shaped like a rose, scientifically known as Greenovia Odrentalis. The leaves have circular petals which are very symmetrical.
This plant grows in clusters and can be traced back to the Canary Islands. Songs from a family of Crassulaceae are very small given that the potential height is 6 inches. This plant only when the top surface of the soil feels dry which you can make sure of by dipping your finger into the soil.
Needs a bright sun to grow properly and thrive under a subtropical climate with an average humidity level of 40%. You don't necessarily need to fertilize this plant. For soiling makes sure it has fast-draining soil which is sandy and has gritty loam.
Be very careful about overwatering Greenovia as it might lead to yellow leaves. Make your dream of having an exotic garden with this addition.
9. Wandering Jew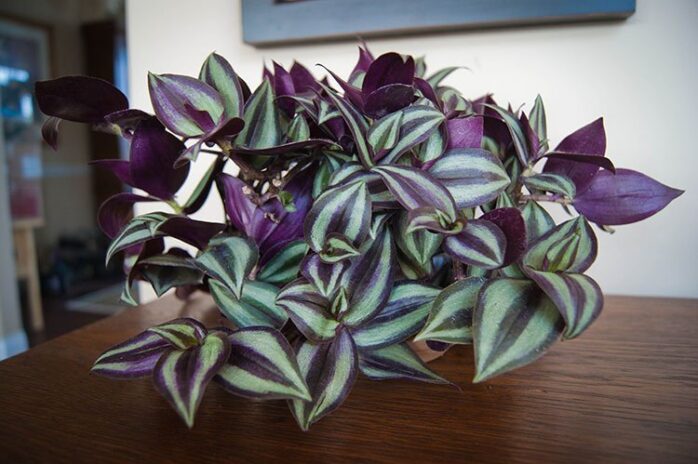 The last one on our list has to be the Purple striped plant also known as the wandering Jew. Scientifically called tradescantia zebrina, this little plant has very small petals that bloom in violet and white hues.
If you are bored out of your mind and need something to take care of, this plant will be the perfect addition to your garden as this plant needs a lot of attention during its growing, starting from watering it properly to feeding it regularly.
What will quickly catch your eye is the silver and olive markings that can be found at the top layer of the leaf and as you go on the underside you see a dark purple color on it. This belongs to a family of Commelinaceae.
Potential growth height of 6 feet this plant needs regular watering and bright sunlight which is not direct for its growth. The temperature for this will be 50⁰F to 80⁰ F. It requires an average humidity level. You can feed it half-strength liquid fertilizing.
Make sure that the soil for the pot mixing is moist at all times. Common problems that these little plants face are spider mites, fungus gnats, and aphids. Top searched problems you can use Neem oil.
Conclusion
All of these plants will be a beautiful addition to your exotic gardening needs. You cannot just decide to get a plant and forget about it after.
Plants need proper nurturing to grow properly and if you want a well-maintained garden, make sure to tend to all the needs of different plants that are housed in it.
With the information provided here, you have nothing to worry about. Hopefully, you have found your rightful match in one of the several that we have on our list. So don't just sit around and procrastinate and get your plant now! Happy Gardening!