Have your pick from the 'Best Commercial Weed Eaters' from this article to make your lawn upkeep easier so it looks fresh all year!
[amazon table="3185″]
If there's one thing I can't live without when it comes to my house, it's the lawn. Having a lush green outdoor space is one of the best features a place can have. But like every rose has its thorns, every lawn has its natural tendency to imitate the wild. And well, you can't enjoy your lawn if you can't even walk in it.
This is where lawn mowers and weed eaters come into play. Lawnmowers give you an even and clean cut without needing any skills. But weed eaters can make that job easier, which provides you with a neater final result.
Weed eaters or weed wackers are also extremely useful in getting the edges nice and cleared out. They're also easy to use and allow for flexibility in cutting grass or weeds.
Furthermore, getting a commercial weed eater is way better for the long-term maintenance of your lawns. They're durable, efficient, easy to use and offer everything a normal wacker would just be amplified. That's why we bring you this article with some of the best commercial weed eaters so you can choose THE one for you.
Top Commercial Weed Eater
1. BLACK+DECKER (LST136) 40V Max String Trimmer

The Black+Decker electric-powered weed eater comes with a 40V lithium battery and even a charge indicator. Hence, you'll know when your weed eater needs to be recharged. Although it might not be the most powerful on our list, this bad boy can give you precise and accurate cuts for those hard-to-get places. So if you need to trim around trees, vegetable patches, or flower beds, this weed eater is perfect for the job.
In addition to that, the Automatic Feed Spool or the AFS is the perfect addition because you won't have to feed the spool manually. This makes the task of cutting and trimming easier and faster. Additionally, this also means that there are little to no chances of the string knotting or crossing lines. Furthermore, you don't need any extra layers of clothing because although this, too, sprays debris around, it's not as bad as other weed eaters.
Another benefit you get with this weed eater is that it's exceptionally lightweight. You can easily maneuver this around your lawn for a neat look. What's more, it's well-balanced so that anyone can use it over any terrain without a hassle. There is one thing you should keep in mind, which is that the battery life is very short. If you use it for 30 minutes at max power, you'll be forced to take a 2-hour nap for it to re-charge 100%.
Pros
Lightweight and well balanced
Self-feed trimmer wire
Quick charging battery
Trigger operation
All in all, this weed eater is perfect for anyone that isn't looking for hours of trimming and cutting under the sun. Nonetheless, what makes this weed eater one of the best is that it's easy to use, lightweight, well-balanced, and precise in its trims. It might not run for the longest, but it takes care of the job beautifully for the time it does run. What's more, you don't even need to try and figure out how to feed the string due to its Automatic Feed Spool feature.
2. Husqvarna 128LD 17″ Cutting Path Detachable Gas String Trimmer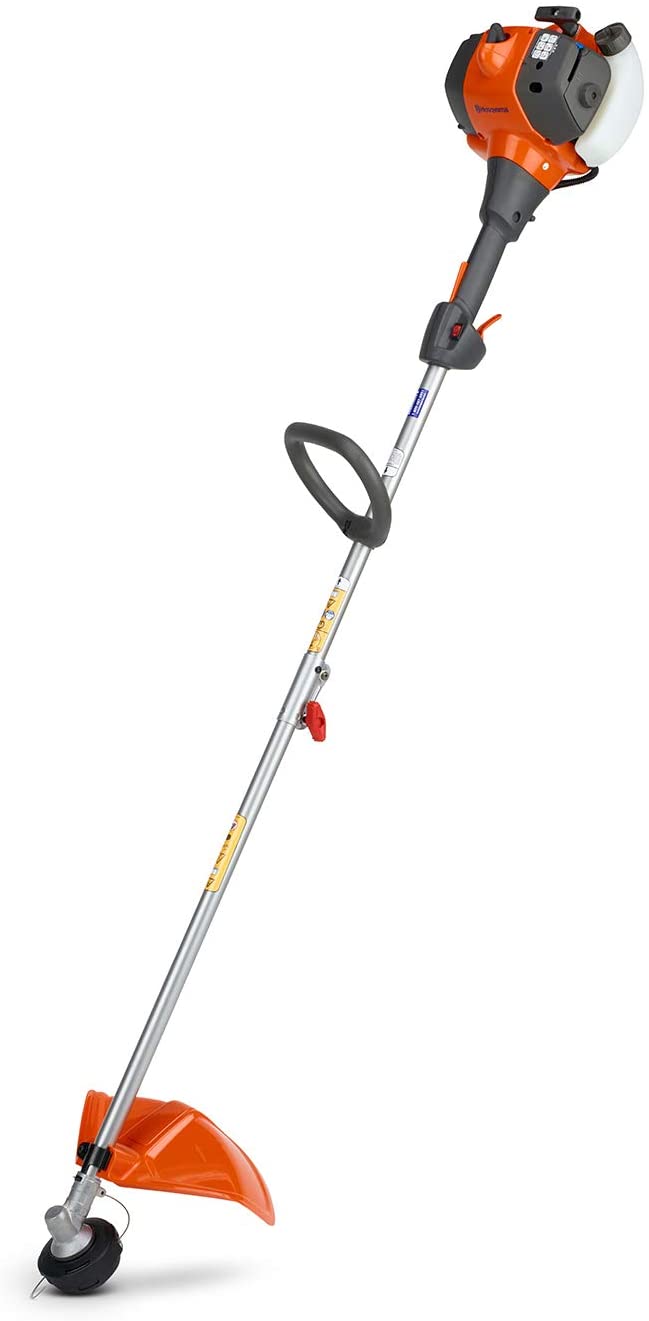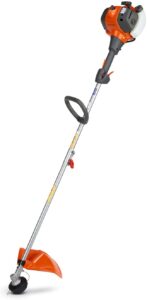 Husqvarna is a name you must've heard while talking about weed eaters and lawn equipment. This is because they deliver excellent and reliable products to their users. That's why the Husqvarna 128LD makes the list for the best commercial weed eaters. The 17" cutting swath gives you ample area to cover as you go about cutting or trimming any unwanted flora from your lawns.
In addition to that, the engine runs on unleaded gas and 2-cycles. Because it doesn't use leaded gas, the fumes aren't as toxic and harmful to your health as leaded fuel fumes. What's more, this weed eater produces very little fume to begin with, so you won't have to worry about that. I'd still suggest wearing a face mask for added safety, though. This weed eater also comes with a 2.6oz oil bottle and instructions on its use.
Furthermore, you won't even have to worry about your string knotting or crossing lines with this weed eater. The T25 trimmer head makes line reloading as simple and easy as it gets. Additionally, the fuel tank is designed to be translucent, so you know when to refuel. You won't even have to worry about any unnecessary air bubbles in the carburetor as the air purge primer bulb takes care of that for you.
Pros
17" cutting width
Fuel monitor
Well balanced
Less noise and smoke
Cons
Might be need adjustments
In short, this is one of the best weed eater you can buy for trimming and cutting the weeds in your garden away. The fuel tank is translucent, so you know when to refill, and the air purge primer bulb takes care of any unnecessary bubbles in the carbonator. The carbonator might need some adjustments, so be prepared for that. Additionally, it comes with extra tools, so you can get more than trimming done with this bad boy.
3. Shindaiwa T262 Line Trimmer Straight Shaft 25.4cc Engine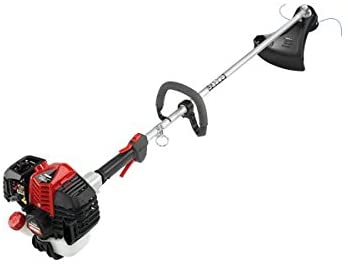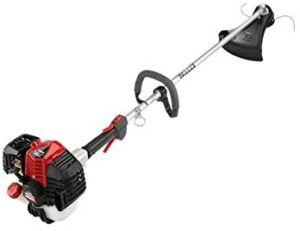 This weed eater has one of the largest cutting swaths on this list. With its 20" cutting swath, you won't have to spend as much time under the sun as you would with wackers with a shorter swath. The engine of this machine is quite powerful as well. It's commercially tested, so you know you're getting a reliable 25.4cc 2-stroke engine.
In addition to that, you won't have to get it started as well. The Shindaiwa T262 starts instantly with the first or second pull. What's more, the trigger throttle gives you the ease to adjust the speed and power according to the task at hand. If you have to take care of some wild, bushy shrubs, high is the way to go. And if all your lawn needs is a light trim, you can reduce it.
Furthermore, this weed eater isn't just powerful but easy to use and well-balanced. Many weed eaters tend to vibrate a lot and cause your body fatigue after some time, this one's well balanced and exceptionally comfortable to use. If you still happen to feel fatigued after a few minutes of use, you can use a shoulder strap to make it more comfortable.
Pros
20" cutting swath
25cc 2 Stroke engine
Well balanced
Effortless startup
Powerful engine
Simply put, you'll have to give this weed eater 5-stars because it delivers everything it promises. The cutting swath is excellent for commercial use, and starting it up is as easy as counting 1,2,3. Additionally, it's easy to use, well balanced and offers you adjustable speed. You can speed up or down depending on your need. The powerful 2-stroke engine ensures that this weed eater gets the job done even after years of use.
4. Echo GT-225 2 Cycle 21.2cc Curved Shaft Gas Trimmer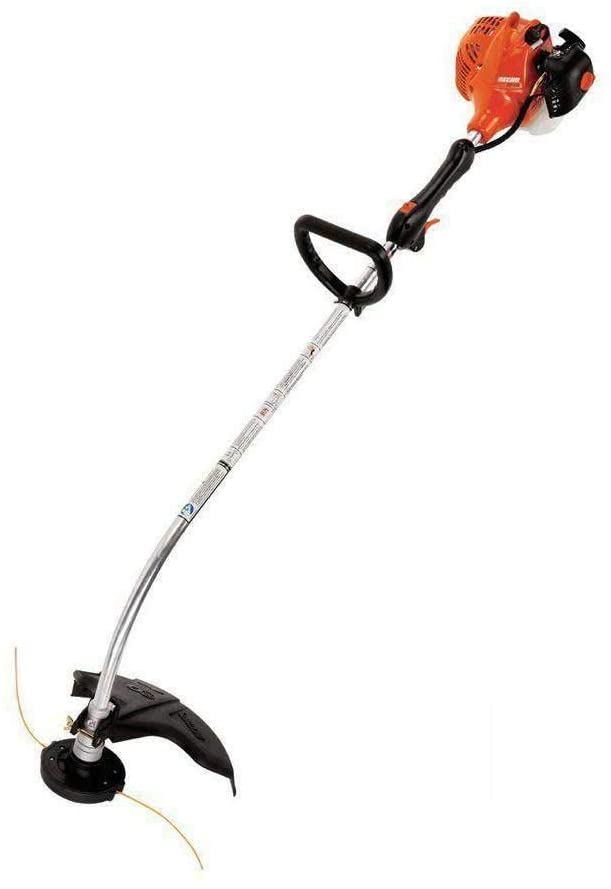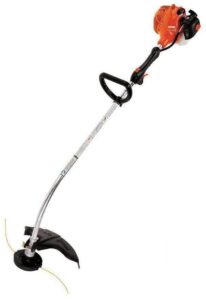 What makes Echo GT-225 Gas Trimmer one of the best is that it's reliable and lightweight. It will cut away any unwanted weeds without the added fatigue. What's more, the 16" cutting swath gives you decent coverage, so you can get the job done in less time compared to weed eaters with a 15" or 13" swath. So although its cutting swath isn't the best, it's a decent length compared to others.
In addition to that, the rapid-load trimmer head will save you more time on jobs that require a lot of lines. This is perfect for times when you need to cover more land but are short on time. Unfortunately, this comes with its flaw as well because the line runs out quickly. What's more, you'll have to feed the line as it doesn't come with a self-feeding line. If you can overlook this flaw, this is a great weed eater.
Moving on from that, if you ever happen to have any issues with any of the parts, you can easily find replacement parts at a very low price. Additionally, it's balanced really well, and maneuvering is easy as well. This makes it easy to use for anyone regardless of their height. Furthermore, you can say goodbye to backache as you don't have to slouch due to the curved shaft.
Pros
Lightweight (10lbs)
21.2cc 2 Stroke engine
16" cutting swath
Easy maneuverability
In short, due to its ease of use and superior carburetor, you'll be covering more ground with the Echo GT-225 gas trimmer. But that's not all. This weed eater is lightweight, and the rapid load trimmer increases productivity while reducing stress and frustration. This makes this wacker perfect for tasks that require a lot of lines. The absence of a self-feeding line shouldn't be a deal-breaker as feeding in the new line is comparatively easy with this wacker.
5. Ego 56-Volt Power load String Trimmer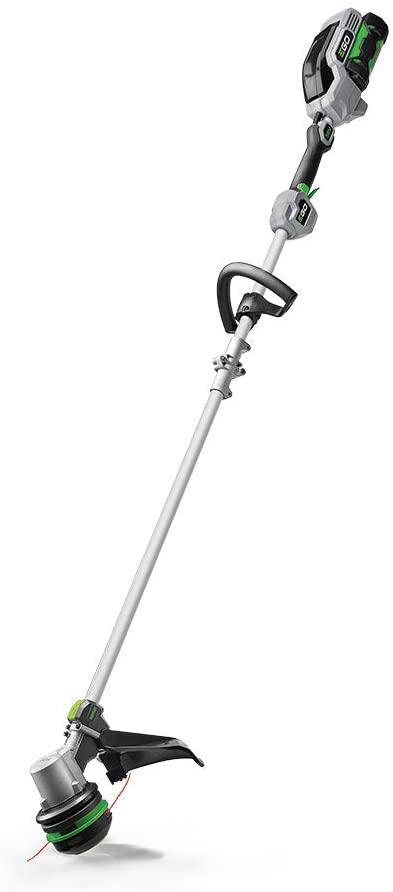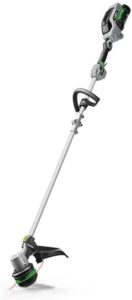 This heavy-duty commercial weed eater is quite heavy, so you might want to bring out the shoulder strap. Nonetheless, this weed eater is perfect for anyone into the landscaping or those who need to trim their lawn, spotless, every other day. What's more, the battery works with 40 other Ego machines, so if you're an Ego fan like me, it's a win-win for us.
In addition to that, this wacker has excellent torque and offers tremendous power for effortless trims. The brushless motor ensures that you don't wake up any of your neighbors on the weekends. That's how quiet it is. What's more, this weed eater is weather resistant with an IPX 4 rating. So if mother nature decides to surprise you with a sudden shower, your weed eater will be A-Okay.
Furthermore, you can achieve variable speeds with this commercial-grade weed eater. Additionally, the spool isn't self-feed, but the process is relatively straightforward. This weed eater comes with a feed button that you have to press till the line is in. One thing you should note is that it doesn't arrive assembled. This means that you'll have to do the assembly yourself.
Pros
Push-button feed for string
Quiet electric motor
Weather-resistant (IPX4 grade)
Cons
Short battery life
Has a short cutting swath (15")
All in all, this weed eater is one of the best cordless wacker out there. This trimmer is a split shaft, meaning that you'll have to do the assembly. This also means that you can fold it for easy storage. Additionally, it is resistant to water splashes hence a little rain will be no bother to this trimmer.
6. Greenworks Pro 80V 16 inch Cordless String Trimmer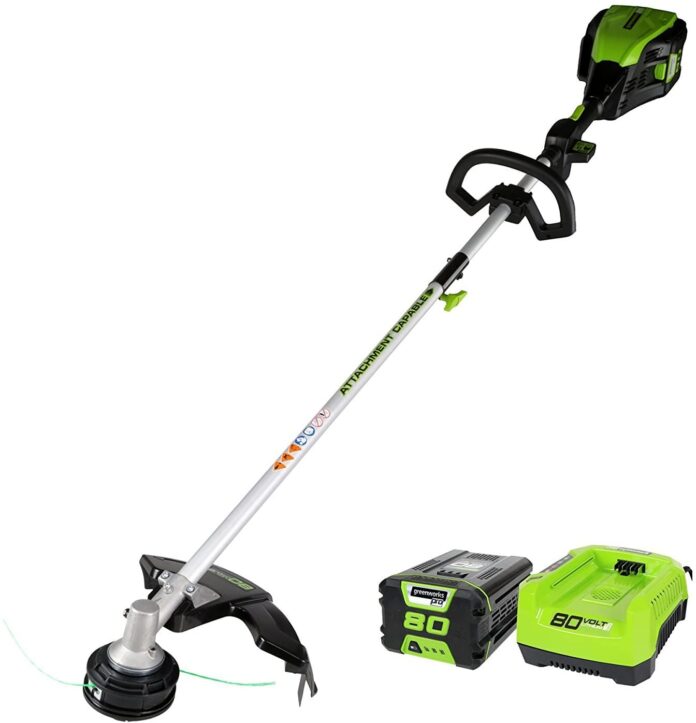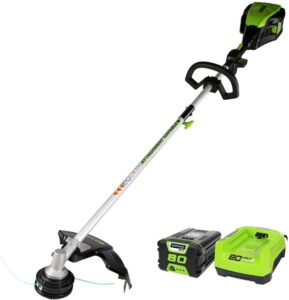 I think we all know that electric weed eaters are known for their battery life. But what's more important, trimming and cutting for hours while inhaling fumes or trimming for less than an hour breathing in the freshly-cut-grass air? If you side with the latter, this weed eater is for you. But you know what, this one doesn't even have bad battery life. With this weed eater, you can keep trimming for up to 45 minutes.
What's more, the brushless motor adds to the machine's life while providing more torque and less noise. Honestly, the quiet ones are my favorite kind of weed eaters. The 2Ah batteries fully charge in 30 minutes. And what's more, the charter has an integrated cooling fan to cool the batteries instantly so they can start charging afterward. You can opt for the 4Ah batteries, but they might be a bit heavy for this design, so using 2 2Ah is a better option.
In addition to that, the batteries come with a 2-year warranty for extra measure. Similar to that, the tools have a 4-year warranty of their own. One thing you should know before purchase is that the design isn't the best. The cable drive shaft is hot-pressed to the motor output shaft. What's more, the coupler is cylindrical instead of being keyed or pinned. This means that the chances of your coupler cracking or slipping.
Pros
Good battery life (45mins)
Excellent power
Quick charging for 2Ah (30 min)
16" cutting swath
Apart from some design issues, this weed eater takes you a step closer to the safe, smoke-free world of cordless wackers. The batteries of these bad boys give you excellent running time, and they charge faster as well. Thus, you can get back to trimming after a well-deserved 30-minute break. The cutting swath is decent so that you can cover a good amount of area in one go. All in all, it's one of the best in the market.
7. DeWALT Battery Weed Eater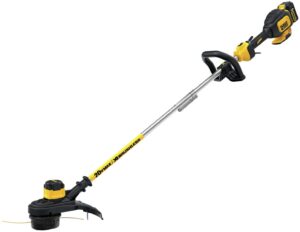 When it comes to commercial use, gas engine weed eaters are generally the norm, but DeWALT is one of the exceptions. Although gas weed eaters give you more power, they also produce harmful fumes that make it necessary to wear a mask for safety measures. You don't have to worry about any of that with this. What's more, it takes little to no effort to start as the tools start and stop with just a pull of the trigger.
In addition to that, this weed eater is lightweight and easy to use. This makes it easy to maneuver for anyone while reducing fatigue. Hence, you can use this for a long time. The cutting swath is a bit shorter compared to other weed eaters (13" only), but the power is enough to cut through any overgrowth your garden might have. The shaft is just the right length as well. You don't have to hunch and break your back when you work with this weed eater.
Furthermore, the brushless motor not only offers high efficiency but also increases the run time as well as the motor life. You might hear a little grunt, but that's nothing to worry about. But apart from that, this is one of the quietest weed eaters you'll find. I wish my neighbors would buy this, so I don't wake up to them trimming their lawn every morning. Additionally, the QuickLoad spool feature gives a fast and easy re-spool, so you don't have to.
Pros
Easy string refill
Lightweight
Battery life
QuickLoad Spool
Cons
A short cutting swath (13")
A bit unbalanced
To put it shortly, this weed eater is one of the best in the market. It's lightweight and refills effortlessly. Although it's an electric weed eater that is thought to run for a short time, this one will last you a good 40 minutes. You'll have your lawn looking fresh without the worry of inhaling fumes and smelling like gas. The cutting swath is a bit short compared to the others, so if you have a huge lawn that requires regular cutting or trimming, you might want to check other weed eaters out.
How To Choose A Commercial Weed Eater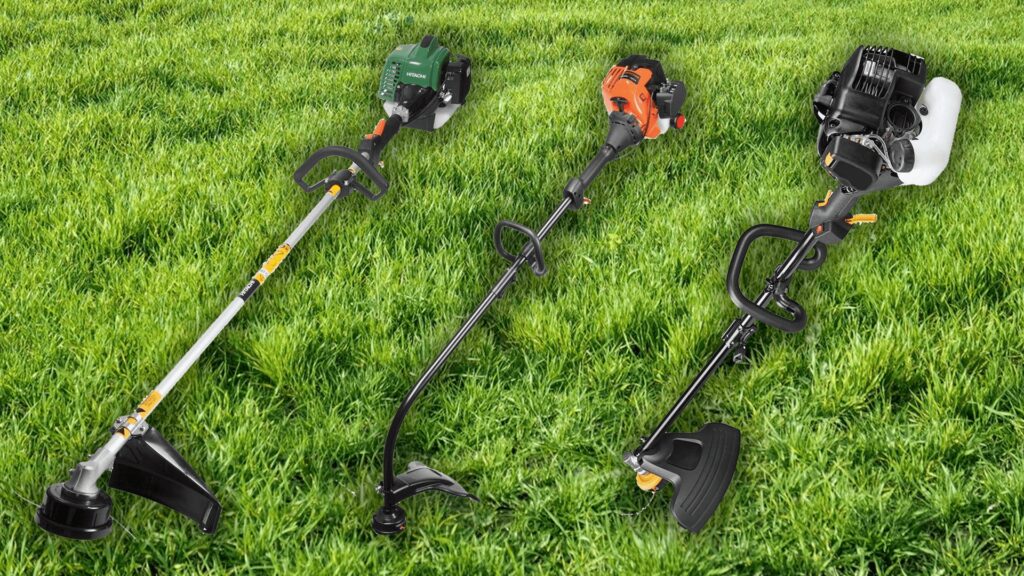 Buying a weed eater is hard as it is but the challenge is when you have to buy a professional-grade weed eater. A commercial weed eater needs to be sturdy and robust. This is so you don't have to keep spending money on buying a new one every now and then. It also needs to be exceptionally powerful as you'll be clearing unwanted flora off a range of terrains. But that's not all because when buying a commercial weed eater or weed wacker, you need to make sure of other features as well.
Your weed eater needs to be easy to use and lightweight. This is because you'll be using it for hours. So, you don't want to struggle with it due to the weight of the thing or the difficulty of its use. With that being said, buying a weed eater doesn't become any less complicated. There are so many options to choose from and so many things to take into consideration. Some of the things you should consider when purchasing a weed eater are mentioned below.
Type of Weed Eater
The first thing you need to take into consideration is what kind of weed eater you want. When talking about the different types of a weed eater, you have three options. Check them out, and then decide which one fits the bill and which doesn't. Out of the three types, handheld weed eaters are the most popular, especially for commercial use. These weed wackers have a cutting head that's mounted on a long shaft.
Basically, it looks like one of those metal detectors that cops use. These eaters run either by gas-powered engines. The other types of commercial weed eaters are backpack and walk-behind wheeled weed eaters. The former is designed specifically for commercial use, and their engines are mounted like a backpack for better support.
The cutting head and shaft are similar to others, but the advantage of these is that you feel less tired. This is because you carry most of the weight on your back and shoulders, the latter weed eaters are the most powerful and stable. Wheeled weed eaters function similarly to push lawnmowers and can be used to de-weed any terrain. The only issue is that they're heavier, and transportation is a bit of a problem.
Type of Engine
Most manufacturers make commercial weed eaters with engines powered by either gas or electricity. The gas-powered weed eaters are more powerful and are usually the choice of the engine when it comes to commercial use. Although some cordless electric weed eaters can perform just as well as gas-powered weed eaters, I'd say opt for the gas one.
This is because, when it comes to commercial use, you don't want to keep going back to recharge your weed eater. In addition to that, recharging will take a lot of your valuable time in which you could've been cutting out weeds. I will suggest that when you're out cutting weeds, have an extra can of gas for safety measures.
4-Cycle Vs 2-Cycle
Once you've decided on the type of engine you want, you might want to consider the number of cycles it has. You'll have the option to choose between a 4 cycle one or a 2 cycle one. The 2 cycle engine runs on a mix of oil and gas. These are generally lighter in weight and more fuel-efficient. In comparison, 4 cylinder engines only use gas as fuel and oil as a lubricant for the different parts. These are relatively heavier due to the various parts. But these engines tend to be quieter. At the end of the day, it's up to you to decide which one you want. Thus, go with the one you prefer.
Comfort and Durability
Because you'll be using the weed eater for a long time so make sure that you get yourself one that's comfortable and durable. To ensure comfort, buy the weed eater that's the most lightweight yet robust. Also, an adjustable shaft is preferred, so you can adjust the length to fit your height. Another benefit is that you can have a wider reach while standing in one place. Moreover, make sure that your weed eater is well balanced, make cutting away weeds easier regardless of the terrain and type of weed/grass. Another thing that I look for in a weed eater, and you should too, is vibration and noise. Get a weed eater that makes the least amount of noise and vibration.
A weed eater with an anti-vibration system is preferred as it reduces the fatigue from the machine significantly. And because you'll be using this tool for hours, you want to take care of your body and your ears, right? So opt for a model that is quieter and less shaky. What's more, when purchasing a commercial weed wacker, make sure that it's commercial grade. You want to spend money on a machine that's been designed for the heavy-duty use you're about to use it for. Most manufacturers specify this in their product description, so it shouldn't be challenging to figure out. If it hasn't been mentioned, you can contact the manufacturer regarding this.
Others
When it comes to commercial-grade weed eaters, don't get the 4-in-1 or the kind of eater that can be changed into another. This is because when it comes to commercial use, the best option is to get a machine that's precisely and solely designed for that purpose. In addition to that, get a weed eater with the cutting width you'll require. Cutting width or cutting swath refers to how much area your trimmer covers when rotating in a circle. A larger cutting width will be ideal for areas that need to be trimmed frequently. I'd suggest that you get a weed eater with a larger cutting swath as you never know when you might need to cover extra area.
Wrapping Up
A weed eater is one of the best decisions I made for my garden upkeep. They're lightweight (most of them) and are easy to use and store away compared to lawnmowers. But with the plethora of options in the market, how do you choose the right one? This article consists of gas and electric trimmers with varying cutting swaths, weight, and price so you can choose the one for you.
Shindaiwa T262 Line Trimmer has the widest cutting swath among our list, but that's not all. The wacker starts instantly, even after years of use. It's powerful, easy to use, and well worth your money.
Ego 56-Volt Power load String Trimmer is weather resistant and can be easily stored away due to its split shaft. What's more, feeding new lines is a breeze, and it's quieter than most wackers too.
Echo GT-225 Gas Trimmer is lightweight and super easy to maneuver, making it perfect for anyone to use. Additionally, the rapid-load trimmer head makes trimming stress-free for all those terrains that require extra lines.
To wrap it up, commercial-grade weed eaters are your best friends. They make lawn maintenance easier regardless of the terrain. These three wackers mentioned above are some of the best commercial weed eaters you can find in the market. They're all efficient and will have any lawn, garden, or meadow weedless in an instant.
If these weren't enough, check out some other picks from Amazon also:
[amazon box="B08XWBJGY9,B08DFRS8C6,B07TSND3VC,B09129YL95″]