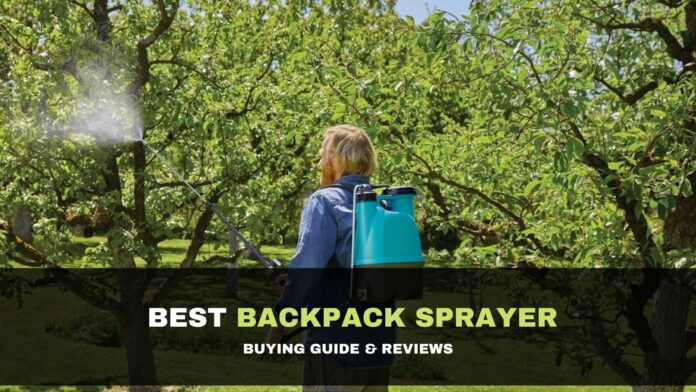 New gardeners are often reminded of spraying their gardens to destroy weeds and invasive species, but they're still not told how. While a whole garden may certainly be sprayed with nothing more than a spray bottle, backpack sprayers provide a much more practical way of dealing with weeds over a large grassy field.
These can be extremely useful devices when it comes to killing off your weeds and keeping your garden looking happy and safe, no matter what you use the space for, or how big it is.
Of course, no two designs and labels will be the same, as most gardening equipment. Your backpack sprayer's PSI, power, wand size, and design will have a huge impact on how you will be using it. Below are ten backpack sprayers that we feel stood out from the rest, whether it's due to their extra features or their overall design.
1. Field King Professional 190328 No Leak Pump Backpack Sprayer
This manual backpack sprayer combines a collection of robust components with a substantial 4-gallon tank to generate powerful 150 PSI sprays of whatever water and chemical mixtures you need, using a compact, surprisingly easy to use pump design.
The lockable shut-off mechanism and No Leak Pump design avoid damage to the pipes and internal workings of the sprayer and make sure you don't spray hazardous chemicals unintentionally when you don't want to.
Thanks to this built-in pressure regulator for backpack sprayers, you can restrict the flow to as low as 25 PSI for a gentler spray, perfect for handling surfaces that need gentle weed killers applications to remain safe. A collection of interchangeable nozzles and a powerful 21-inch long wand allow you to create a wide range of different types of spray from a safe distance.
This backpack sprayer is fairly easy to use, but it provides plenty of versatility that makes it useful in many different situations and environments, regardless of what weeds you try to destroy.
Key Features
Anti-leak design
The reliable device of locking.
Long wand to make spraying easier
Easy to reconfigure and restore.
Reasonable limiter of pressure for softer sprays.
2. M4 MY4SONS 4-Gallon Battery Powered Backpack Sprayer
Inside this backpack sprayer, the battery-powered pump produces a steady 60 PSI spray for handling a variety of different types of weeds, using an easy-to-adjust spray wand that can be extended to a total length of 40 inches.
Thanks to the variety of different nozzle attachments, you can adjust the spray output to your current situation by simply switching your old nozzle to a new one and the fairly long battery life ensures you'll have plenty of time to search for spots you've missed.
On top of that, the improved trigger design makes the whole unit much more convenient to use and adds a locking feature that can stop the water flow almost instantaneously without damaging the hose or causing pressure to build up. The curved tip makes the covering of weeds much simpler without pointing the whole wand straight down at an uncomfortable angle.
While some people find battery-powered devices an annoyance, this backpack sprayer's long battery life and excellent design make it a perfect choice for devoted gardeners.
Key Features
Battery life is long.
Spray wand with an angled handle.
Built-in button lock.
Easily adjustable.
Ergonomic design.
3. Roundup 190314 Backpack Sprayer
For simplicity and performance, this rounded, four-gallon backpack sprayer is designed using a larger pump that speeds up the time it takes to pressurize and spray its material. The hose system has a built-in in-line filter that helps prevent blockages, and the spray wand itself is made of robust, corrosion-resistant materials that guarantee a long service life, even if you frequently use heavy-duty chemicals.
The tank itself is relatively lightweight and uses a series of adjustable straps that hold it tight to your body without running the risk of falling or dragging you down should you inadvertently lose your footing.
Combined with the excellent lumbar support directly built into the tank's design, this means you'll stay comfortable for longer. The pump handle can also be inverted to operate on both left-handed and right-handed users on extra convenience.
This backpack sprayer's simple and user-friendly design makes it an ideal device for gardeners wishing to avoid unnecessary stress and fatigue during long spraying jobs.
Key Features
Comfortable and user friendly.
Includes hardwearing fabrics.
Three flexible nozzles.
Fit belts.
Simple to fill the tank with additional support.
4. Chapin 61900 4-Gallon Tree and Turf Pro Commercial Backpack Sprayer
The Chapin 61900 boasts an impressive three-stage filter that makes it almost impossible for dirt and debris to get into the pipes, keeping the water pressure stable and cutting down on the need to constantly clean the pump system.
This backpack sprayer's shut-off system uses an easy-to-read gauge that shows you the exact pressure of your water flow, with the CF valve automatically shutting it off if anything goes wrong.
An adjustable nozzle at the end of a 28-inch tube offers plenty of versatility and flexibility, enabling you to spray various areas without having to stop and fiddle with any external adjusters or settings. It makes spraying weed killers incredibly simple in gardens of any shape and size, alongside the large default level of 60 PSI and the optional 20-inch extensible spray wand.
The long reach and easy to use the design of this backpack sprayer make it perfect for almost any garden, particularly those with plenty of open space.
Key Features
Long sleeve and a spray wand for more reach.
Simple Nozzle modification.
Automatic CF valve which shuts off the spray when the pressure spikes or falls.
Reliable configuration with a three-part filter.
Long-lasting straps with lumbar support attached.
5. Solo 425 4-Gallon Professional Piston Backpack Sprayer
Reaching up to 90 PSI in a matter of moments, the Solo 425 is a disappointingly powerful backpack sprayer built for extra durability, using a long-lasting, high-performance pump that can be quickly locked and unlocked to avoid accidental damage.
The sprayer itself comes with four separate nozzles: a hollow cone, a narrower spray, the third nozzle for powerful water jets, and a fourth, manually controlled attachment. Not only that but for use on either side, the pump handle can be inverted.
The provided hose spans up to 48 inches in length, using transparent materials to make it much easier to detect leaks and pressure drops without causing you to remove the entire package. Thanks to the tank's internal nature, it can accommodate nearly any form of weed killers and pesticides, and can even be used to spray finishing agents for certain garden patio surfaces.
This backpack sprayer combines reliability with user comfort, which means it's ideal for long-term use around the house or in business environments.
Key Features
Versatile architecture can accept several chemicals.
Components which are robust and durable.
Long hose.
Four adjustable nozzles.
The form is relatively compact.
6. Hudson 13194 Commercial Bak-Pak Sprayer
The powerful piston-based pump from this backpack sprayer is perfect for producing powerful long-range sprays of water, making it much easier to cover your entire garden without having to travel invidiously to any missed spot.
If you are spraying weed killer or just keeping your lawn hydrated, the 48-inch hose gives you plenty of extra versatility, with the optional 20-inch fiberglass spray wand providing a more reliable choice for difficult areas.
The 4-setting nozzle system allows for cones, streams, a big "fan" spray or even a two-coned spray pattern that can cover a vast area in a very short time, making smaller gardens work faster, and speeding up the spraying cycle in large spaces.
The big mouth on the tank also makes loading into fresh chemicals much easier, and in much less time you can quickly refill and start spraying over again.
The simplicity of the hose and spray wand of this backpack sprayer makes it easy to use in almost any situation and offers an excellent degree of flexibility for almost any form of a garden.
Key Features
Versatile collection of 4 different types of nozzles.
Easy to use framework for shutting out and locking.
Bigmouth tank for rapid refills.
Pump style Ambidextrous.
Big hose, and wand spray.
7. Chapin International 61575 Bleach & Disinfectant Backpack Sprayer
The sleek, lightweight design of the tank of this backpack sprayer makes it a very versatile device without much storage space for smaller gardens or homes. Despite its scale, it can provide the pressure of up to 100 PSI, regardless of whether you are using pure water or an undiluted fungicide or pesticide.
The built-in straps are padded to give them a longer life and make the whole package more comfortable to wear for long periods – this makes it much easier to spray a whole garden in one session, in addition to the supportive grip used on the spraying hose.
The sprayer also comes with a set of adjustable nozzles, allowing for a range of different fan or cone-shaped sprays at varying angles and widths. In the fly, these can be quickly adjusted around, ensuring you don't have to take the whole device down to use a new spray pattern.
This backpack sprayer is lightweight and simple to carry without losing its spraying power or performance, making it an ideal device for smaller homes with less storage space available.
Key Features
The tank size is fairly compact.
Works well with undiluted chemicals and solutions.
Cozy and simple to wear/use
The long period of service.
Bigmouth and easier to pour.
8. Chapin 63924 4-Gallon 24-volt Extended Spray Time Battery Backpack Sprayer
A battery-powered backpack sprayer will operate from a full charge for two hours of continuous use, making it extremely convenient for extensive gardens and grassy areas which need to be regularly sprayed with weed killer or other chemicals.
Alongside the carefully built nozzle, the three-stage filter works to almost completely remove any risk of system clogging even when you're surrounded by annoying particles, and the largemouth on the tank itself has a dirt barrier to keep the contents free from contamination.
Thanks to the three easy-to-swap nozzles, you can customize your spray pattern to handle different situations almost instantly, adjusting the speed, width, and angle of your water jets without any additional equipment or components needed.
Not only that, but the long hose means you'll have plenty of scopes, which means you can angle it from the tank to 48 inches out without reducing the water.
A powerful battery and automatic pump make this backpack sprayer an excellent point of departure for first-time users, but it is also reliable enough to serve seasoned users well, especially when it comes to spraying larger gardens.
Key Features
48-inch, 20-inch wand hose for a quick spray.
Three specific sprays patterned nozzles.
The Tank is Transparent.
Cushioned handle for added convenience.
Three-stage filter which prevents blockage.
9. Field King Max 190348 Backpack Sprayer
Specially designed for spreading around herbicides and weed killers, this backpack sprayer uses its simple and user-friendly design to ensure you can quickly and easily coat your garden with whatever chemicals it needs.
Quickly hitting pressures of up to 150 PSI, the spray wand and its built-in extra features can be quickly locked and/or turned off, which ensures that you won't inadvertently waste too much water when trying to fiddle with the settings or turn off the whole pump.
Also, the built-in agitator paddles help keep your chemicals and water balanced during use, so you don't have to shake them up or remove them during mid-spraying. This has the added advantage to keep the pump reasonably clean, so you will have to fix it even less frequently.
With this backpack sprayer, the agitator is the show's leader, keeping your chemicals primed for spray at a time notice.
Key Features
Goes up to high pressure.
It can be turned off with ease.
Agitator devices for holding mixed chemicals.
Reparations are less frequent.
The use is fairly straightforward.
10. Field King Professional Backpack Sprayer
The 190328 Field King Professional is another excellent backpack sprayer worthy of your consideration. The Chapin models do not offer a lot of benefits. The Field King Professional, for example, has a system with a no-leak pump.
And, by using the pump, you never have to think about pouring hazardous materials onto yourself. The pump of this sprayer is plugged into an internal agitator. The agitator mixes the tank contents whilst using the pump. This means the spray solution is uniform.
The Field King Professional's next most important characteristic applies to the nozzles. In addition to the four nozzles which come with this model, TeeJet nozzles can be added to extend the functionality of the sprayer.
Far better this unit can produce up to 150 psi of pressure. It gives you tremendous versatility in managing flow rate, spray pattern and droplet size. There is also a lock-in feature in the shut-off assembly to reduce the pressure on your spraying side.
The Field King Professional has far fewer pieces that are susceptible to wear and tear. So, durability is built to this pattern. Even if the equipment breaks down it is easy to remove or fix the damaged component. The backstrap on this model, however, calls for change. It is not as comfortable as the Chapin models already mentioned. And there is also no lumbar backing.
Key Features
Budget-friendly
Pump configuration with no leaks
The pump handle may be fastened to the right or left side
Pressure build-up to 150 psi
Parts can be replaced and repaired quickly
Check for More Products of Backpack sprayersBackpack sprayersBackpack sprayersBackpack sprayers
Backpack Sprayer Buyer's Guide
Despite being a simple concept on paper, backpack sprayers have several different components that can influence how they work and what they can do. Others would be ideal for particular chemicals, while others will be a general-purpose sprayer that will try to handle anything in one build.
Garden Size
While in any garden you can legally use any form of the sprayer, the size limits will always slow down or speed up the job you are doing. A sprayer with a tiny tank and/or battery life would cope with huge open areas, while an enormous sprayer could be more difficult to use in very small gardens with lots of design to crash into. Choosing a sprayer of the right size would almost lead to a much smoother experience so it is worth considering.
Remember storage is critical, too. If you end up puncturing the hose or tank, it will need to be patched, and that can be done much quicker than you would think. If your home (or vehicle, if you're using the sprayer for work purposes) doesn't have a lot of storage space, then just try to go for a smaller model.
The Purpose
Not all sprayers are built to do everything, and in certain cases, others may be much better at distributing other chemicals or spraying. Make sure you know what kind of product you're purchasing before you purchase because if you're using it accidentally, you can end up breaking or damaging a backpack sprayer.
Some backpack sprayers may have low pressures and PSI levels in a similar vein, which means they generate very weak and gentle sprays at a slower rate for saturating smaller areas. The higher the PSI, the more the spray is aggressive, which is great for long-distance work but can damage grass up near.
In general, even models with adjustable pressure rates will still have a "recommended" amount of pressure to be used, which can determine the type of design choices and features they provide.
Comfort
Some of the most popular features of any backpack sprayers are the fact that you can hold it on the back as the name implies. Not every design, however, attempts to do this well, and a poor-quality model can even be constructed in a manner that induces physical pain or bruise after long periods of use. Weak straps made of thin materials can also easily snap, particularly if the tank is full, which can cause permanent damage to the unit's internal structure, or even completely break it.
There's the far more severe lumbar support issue, too. If you constantly use your backpack sprayer, whether it's around your home or as part of your work, you'll need the best possible physical support to ensure your body doesn't experience any long-lasting posture damage or other forms of physical harm. The bigger the tank, the more weight you place on your back, so weaker or physically vulnerable users should always try to find a comfortable weight layout.
Know you don't have to fill the tank. If you are struggling to determine how much water you put into the sprayer, it might be better to use a transparent tank, because you can easily see through the outer layer instead of having to look through the tank's head.
Expert Tip
When you're trying to calibrate or repair an old sprayer, make sure that you first clean it thoroughly-this will give you a smooth, even spray and get rid of any obstructive debris.
Spray wands are less likely to leak: they can also have a longer lifetime than hoses, and can usually be punished more by spraying water under high pressure.
Final Thoughts
In short, the best weed sprayer on the backpack is the one that reduces the number of sacrifices you need to make. For example, if you're willing to compromise on price, the Chapin 63985 is the best roundup sprayer you can buy for a backpack. But if you're willing to forget the advantages of an electric motor in return for a budget-friendly model, go for the Chapin 61900.
But, the TeeJet nozzles do not match the Chapin versions. When you are looking for more versatility in spray designs, a better choice is the Solo 425 or the Field King Professional. Note, there are no high-quality back straps or lumbar support for those versions. Therefore, they are less confident than the ones in Chapin. Ultimately, if the bare minimum requirements are all you need, the Stanley 61804 is the best buy on a budget.
Backpack sprayers have come a long way in terms of both utility and economy over the past few years. This development brought multiple items onto the market. To every form of consumer, there is a product at every price point.
Though the number of choices is daunting, you can get the right details and directions to the right product. We hope this review encourages the purchase of a product that will serve you well for many years to come!
Take a look at these products from the same price range, that are available right now on Amazon:
Also, See 10 Stylish Indoor Flower Pots – Affordable Indoor Pots for Your Home Gardening