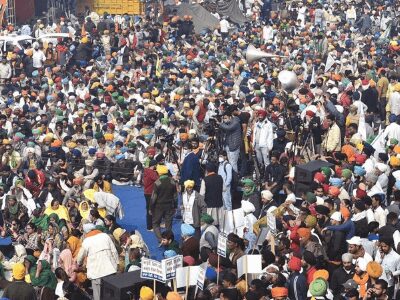 For more than three weeks, thousands of farmers, particularly from Punjab and Haryana, have been protesting along the border with Delhi. Several protesting leaders have threatened to escalate their unrest and have said they are ready to celebrate next year's Republic Day with their own tractor rally on the border with Delhi.
On Monday, as the impasse between the government and farmers' unions continues, farmers' agitation against the three controversial farm laws entered into day 26.
On Sunday, the Centre invited farmers' unions to join the government's discussion again and asked them to set the date of the Vigyan Bhavan meeting according to their convenience.
The farmers said on Sunday that they would observe a day-long relay hunger strike on Monday at all protest sites and halt toll collection on highways in Haryana from 25 to 27 December, intensifying their protest against the Centre's contentious agricultural reform laws. Before that, Kisan Diwas will be observed on December 23 by the demonstrators.
Speaking at a press conference, Chief Yogendra Yadav of Swaraj India said farmers would experience a day-long relay hunger strike on Monday. He also reported that the Haryana government is threatening the protesters.
"Protesters are harassed by the government of Haryana. This is against the Supreme Court's course. I advise them to stop threatening tomorrow's farmers,' said Yadav.
On Sunday, Union Minister VK Singh said the ongoing protests were more 'political' in nature. He said that "real farmers are very pleased with what has been done in the past six months."
On Sunday, various organizations affiliated with the agitation of farmers observed 'Farmer Martyrs Homage Day' in memory of farmers who have died since the agitation started. According to the AIKS, 33 farmers who engaged in the struggle have died since 26 November.
Follow all live updates here:
Farmers accuse Centre of neglecting their interests
Despite the new legislation posing a threat to their livelihoods, farmers protesting on the Jaipur-Delhi highway accused the Centre of not paying attention to their demands. Continuing protests against the new agricultural laws have partially blocked the Jaipur-Delhi highway, PTI said.
Protesting farmer attempts suicide near Singhu border
On Monday, a 65-year-old Punjab farmer protesting on the Delhi-Singhu border tried to commit suicide. He has been admitted to the PGIMS hospital in Rohtak and is said to be in a safe state. It is said that Niranjan Singh, who hails from Taran Taran, wrote a suicide note that is now being investigated by the police, PTI said.
Protesting farmers at Singhu border line up for blood donation
On Monday, protesting farmers lined up to donate blood in a donation camp organized by the Ludhiana-based NGO Rehras Sewa Society. Since the camp began on Sunday, more than 240 farmers have donated blood, the news agency PTI reported.
Bhartiya Kisan Union protests against PM Narendra Modi in Bathinda
Outside the District Administration Complex in Bathinda, the Bhartiya Kisan Union (BKU) protested against Prime Minister Narendra Modi. The farmer's organization protested against the Centre's new farm laws.
Farmers group in UP starts relay against new farm laws
On Sunday, a group of 11 farmers led by District Panchayat member Bablu Kalia began an indefinite relay hunger strike in the Bindki town, PTI reported. Kalia told the news agency that once the new agricultural laws are fully repealed, the farmers will continue their protest.
Protesting farmers to meet farmers supporting new laws
We'll go and speak with the farmers' organizations that help the Three Farm Laws Centre. We'll hear from them how they profit from farm law and learn the technologies they use to sell their crops: Rakesh Tikait, Speaker, Bhartiya Kisan Union, ANI reports.
Farmers continue to protest at Burari's Nirankari Samagam ground, Tikri border
Farmers continue to protest at Nirankari Samagam ground in Burari and Tikri border against the latest farm laws calling for the removal of the laws, PTI records.
Farmers to start a relay hunger strike from today
On Sunday, farmers' unions protesting at the Delhi border agreed to step up pressure on the government to revoke the new farm laws and, from Monday onwards, declared a relay hunger strike at all protest sites, asking agitators from across the country to join them.